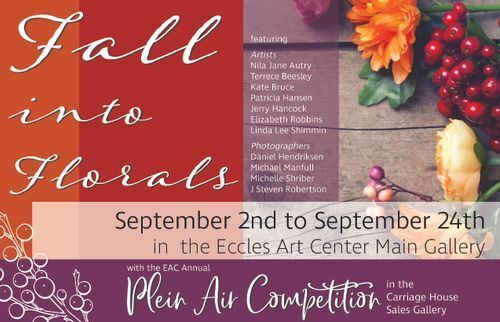 A collection of Utah floral artists and photographer were invited to display works at "Fall into Florals" exhibit at the Eccles Art Center, 2580 Jefferson Avenue, Ogden.  Artists and photographers participating include Nila Jane Autry, Terrece Beesley, Kate Bruce, Jerry Hancock, Patricia Hansen, Daniel Henriksen, Michael Manfull, Elizabeth Robbins, J Steven Robertson, Michelle Scriber and Linda Lee Shimmin with work on exhibit in the Main Gallery. The work of Utah plein air artists will be featured in the Carriage House Gallery. A reception for the artists and public is scheduled in association with Ogden's Art Stroll on Friday, September 2, 2022 from 5 to 9 p.m.  These artists' works will remain on display through September 30, 2022.
Most of the artists represented in the exhibit have shared that they find inspiration in the natural beauty of Utah and the Wasatch Mountains.
Daniel Hendriksen explains "I have the great fortune to live in a part of the world where natural beauty is abundant.  My love of these visual gifts, developed early in life, has led me to explore photography as a means of sharing my personal experiences with other."
Elizabeth Robbins states "As a child my grandmothers would help me identify various wildflowers.  This is where my love of flowers began.  I still have the book where I pressed and categorized wildflowers that my paternal grandmother helped me with."
"As a teen" Michael Manfull say "my interest in visual arts flourished after I received a small camera as a gift allowing me to capture the world as I perceived it.  This was one of many events that led to my degree in Fine Arts from the University of Utah."
Kate Bruce calls herself "a contemporary expressionist painter, a colorist who creates expressionist paintings inspired by nature." She continues "I work in a loose, intuitive style and are known for my florals and use of vibrant color."
The Eccles Art Center Plein Air exhibit in the Carriage House Gallery is competitive, and open to professional and amateur artists interested in creating works outdoors, on-site not in a studio.  The exhibit will include original works painted August 22 through August 29, 2022 within the boundaries of Weber County.  Ah! Fresh paint!  The boundaries were established for artists to capture the historic architecture of Ogden and to explore the natural beauty of Weber County.  Local art collectors are invited to view or add one of these works to their private collection.
A sampling of past plein air works from the collection of Heather Hess Lindquist will be on exhibit. Heather Hess Lindquist has been a sponsor and collector for this competition since its beginnings.
The Art Center's gallery hours are Monday through Saturday 9:00 a.m. to 5:00 p.m. The Center will be closed Monday, September 5, 2022 for Labor Day.  Admission to exhibits is complimentary.