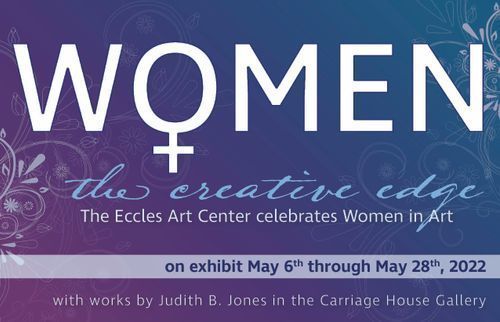 This May 2022, the Eccles Art Center celebrates the creativity of Utah's Women Artists.  The Third Annual "Women: The Creative Edge" will open with an exhibit of the recent works of Judith Browning Jones in the Carriage House Sales Gallery on May 6, 2022.  A reception for the artists and the public will be presented   Friday, May 6, 2022 from 5 to 8 p.m.  The exhibits will remain on display at the Eccles Art Center, 2580 Jefferson Avenue, Ogden through May 28, 20221.  Admission to the center's exhibits is complimentary.
"Women: The Creative Edge" is a competitive exhibit with 72 Utah women artists registered to participate. The Eccles Art Center staff is pleased that this exhibit will feature Women resident Utah artists with a variety of art from paintings to sculpture, textiles to pottery, handmade books to paper collage.  Awards will be posted during the artist reception on Friday, May 6th, 2022 and may be viewed on the Eccles Art Center's website: www.ogden4arts.org.
As artist, Patti Smith has said "Nobody says 'Picasso, the male artist".  The Eccles Art Center staff wishes to share with you the creativity that women artists bring to their profession.  It will be an exhibit you will not wish to miss.
Judith Browning Jones, a woman artist will have her recent works featured in the Carriage House Sales Gallery.  Art Center Director, Patrick Poce describes her exhibit: "From brush to paint … to canvas, to frame … to wall; Judith Browning Jones does it all."  He continues "her works explores an avant-garde look at life."
The Eccles Art Center gallery hours are Monday through Friday 9 a.m. to 5 p.m. Saturday 9 a.m. to 3 p.m. The center is closed Sundays and major holidays.
Women: The Creative Edge 2020 - Winners
Women: The Creative Edge 2022 Winners
Women: The Creative Edge 2022 - Virtual Tour