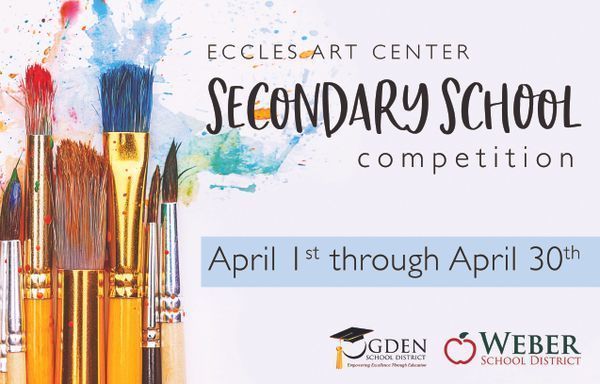 Selected artwork created by the secondary students of Ogden City, and Weber County School District will be featured at the Eccles Art Center, 2580 Jefferson Avenue, Ogden in the main gallery during April 2022.  The work of the Ogden City School secondary students' work will be on exhibit March 27, through April 11, with the work of the Weber School secondary student's on exhibit April 13, through 30, 2022.  A reception in association with Ogden's First Friday Art Stroll is scheduled for Friday, April 1, 2022 from 5 to 8 p.m.   The Carriage House Gallery will exhibit the accepted works for "the Frame Your Pet" Competition.
The Frame Your Pet Competition was open to resident Utah visual artists.  Works included in the exhibit must be original and not larger than 20" x 20" framed.  As this is a juried/judge competition, awards will be posted during the April 1, 2022 artist's reception.  Monetary award presented will include first, second, and third places as well as five honorable mentions.  Works included in Carriage House Gallery competitions must be priced and available to be purchased. 
The Eccles Art Center has joined the at home/hybrid movement with the inclusion of on-line slide presentations of many of our exhibits and competitions.  After April 3, 2022, visit the center's website www.ogden4arts.org to review a slide presentation of the "Frame Your Pet" Competition.
The staff of the Eccles Community Art Center invites you to visit these exhibits throughout the month of April.  Regular gallery hours are weekdays 9 a.m. to 5 p.m. and Saturday 9 a.m. to 3 p.m. 
Frame Your Pet 2022 Winners
Virtual Tours