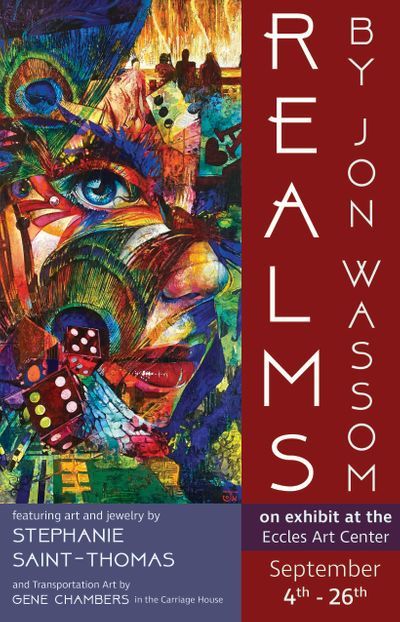 A diversity of art will be showcased during September at the Eccles Art Center, 2580 Jefferson Avenue, Ogden.  The work of Salt Lake City artists, Jon Wassom and Stephanie Saint-Thomas will be on exhibit in the Main Gallery. Ogden artist, Gene Chamber's transportation art will be featured in the Carriage House Gallery. A reception for the artists and public is scheduled in association with Ogden's Art Stroll on Friday, September 4, 2020 from 5 to 8 p.m.  These artists' works will remain on display through September 26, 2020.
Painter, Sculptor Jon Wassom states "My painting style in simple terms, is Abstract Realism.  The two opposing genres, exist in one painting, represent where dreams and reality collide – that beautiful space where creation happens, just beyond the physical realm.  My textures symbolize the desire to touch the world, making an imprint on it; a modern day hieroglyph.  I cycle through different subject matter, coming back to similar themes often with a new view and approach."
Wassom continues "Recently, I started sculpting.  A new realm for me.  A very tangible process. Figurative work inspires me. When I'm creating a figure, it is fascinating that the smallest adjustment of the material will continue to change the identity of person."
Artist Stephanie Saint Thomas paints and created whimsical jewelry.  Stephanie's early life in Spain, France and Holland influenced her love or nature and trees which she expresses in her art.  "I am spell bound by tortured beauty of a gnarled tree trunk, foliage webbed in raindrops, a stray curled leaf, revealing beauty in death and life.  Tree roots grasp the earth, as if it were their only way to prevent them from flying skyward – their limbs outstretched to each other in a wind driven dance…. It is my art that roots me to this life."
Of her process, Stephanie explains "My mystical and expressionistic paintings are painted on wood panels.  Media includes acrylic paint, gold and silver leaf, opalescent powder, with a high gloss finish.  There is no glass.  This is my signature mixed media technique of 35 years."
Gene "Geno" Chambers says "The power and grace you see in my artwork is reflective of the custom car culture of the 50s and 60s.  have you seen "American Graffiti"? Yeah, me too! Hot Rods are my passion, but graphic are my craft."  Gene considers "Maybe being so close to the Bonneville Salt Flats is what put the allure of the hot-rod in my soul."
Chambers states his philosophy as "A classic car, the romance of days gone by, and the scent of fresh paint on a well-worn brush – that's the essence of life."
The Art Center's Covid gallery hours are Monday through Friday 10:00 a.m. to 4:00 p.m. and Saturdays 10:00 a.m. to 2:00 p.m.  Admission to exhibits is complimentary.
---
Realms by Jon Wassom
To purchase pieces from this exhibit, call (801) 392-6935 or email debra@ogden4arts.org