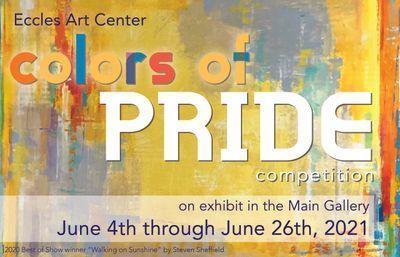 The Eccles Art Center, 2580 Jefferson, Ogden will exhibit the accepted works from the Pride Statewide Competition in the Main Gallery and Carriage House Gallery June 4 through 26, 2021. A reception in association with Ogden's Art Stroll and held within the State Covid- 19 guidelines on Friday, June 4, 2021 from 5 to 8 p.m.   Awards will be posted at this reception as well as online at www.ogden4arts.org and social platforms: Facebook and Instagram.
The Eccles Art Center announces the second annual celebration of pride during Pride Month. This competition was open to all artists who presently reside in the state of Utah.  Original works in any medium including paintings, prints, monoprints, drawings, graphics, pottery, sculptures, and textiles were eligible. 
The Eccles Art Center is proud to celebrate Pride Month.  We support the coming together of artists and art appreciation, through the offering of this competition of shared creative expression.  When the world is disheartening, a show of support and acceptance is all that someone needs to feel understood.  We asked artists to create using the colors of the updated Pride flag.
Donate to the Eccles Art Center's "Show Us Your Pride" fundraiser. Make your donation in your name or in honor of someone extraordinary at the art center's website: www.ogden4arts.org and a rainbow heart will be displayed in the art center's main gallery through June 26, 2021.  The minimum donation for a rainbow heart starts at $10.  The EAC's goal is to raise $500 to benefit Ogden Pride OUTreach.  Those making donation in person will receive an Eccles Art Center Colors of Pride wristband.
 Monetary awards will be presented for the Pride Competition.  Awards will be posted for the art stroll reception, shared on the art center web page and social media.
The staff of the Eccles Art Center invites you to view the "Colors of Pride" exhibit which will remain on display through June 26, 2021. The Eccles Art Center is returning to its regular gallery hours June 1, 2021.  Regular Gallery hours are weekdays 9 to 5 and Saturdays 9 to 3.
---
Colors of Pride Competition Winners
Pride Competition Winners
Colors of Pride Entries