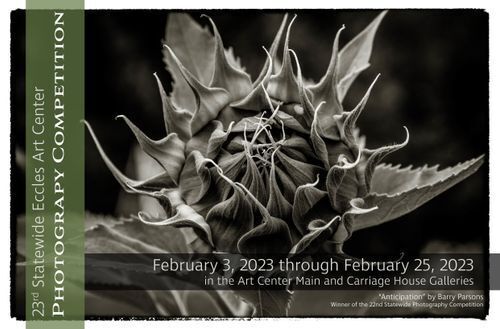 The Eccles Art Center, 2580 Jefferson Avenue, Ogden will open a juried exhibition of photographic fine art from our 23rd Statewide Photography Competition.  This exhibition will open Friday, February 3, and continue on display through Saturday, February 25, 2023. A reception will be held February 3rd, from 5 to 8 p.m. in association with Ogden's First Friday Art Stroll.  Awards presented will include monetary awards of Best of Show and four Honorable Mentions.  Awards will be posted at the reception and on-line at the Eccles Art Center's website: www.ogden4arts.org. Works from this competition will be shared virtually. The public is invited to attend the reception and to view the exhibited works throughout the month. Admission to the art center's galleries are complimentary.
The 23rd Photography Competition, a juried biennial competition is open to recent works by resident Utah photographers. Original work in a varieties of photographic styles will be displayed.  The art center staff appreciates the assistance of the juror which reviews and curates works chosen for the exhibit as well as assisting in the judging of awards. 
This competition is popular with Utah photographers and art center patrons.  The EAC staff is excited to present a display of Fine Art Photography.  It is an exhibit that can includes all varieties of photography from silver gelatin prints to digitally manipulated works. 
The public is invited to visit the Eccles Art Center and Carriage House Galleries during regular gallery hours.  Gallery Hours are Monday through Friday 9:00 a.m. until 5:00 p.m. and Saturdays 9:00 a.m. until 3:00 p.m.
Photography Competition Winners
Photography Competition Winners
Photography Competition Entries