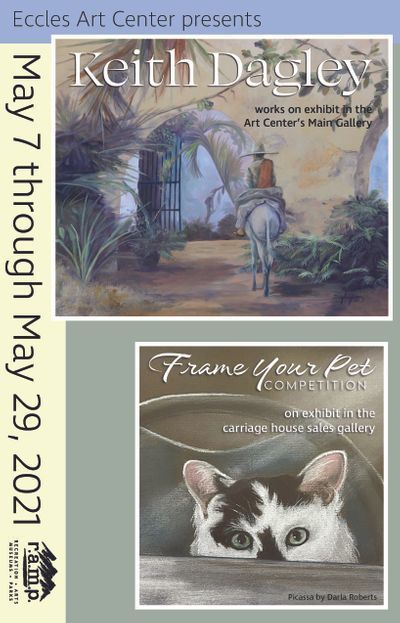 During May, The Eccles Art Center, 2580 Jefferson Avenue, Ogden will be exhibiting the paintings of Keith Dagley in the Main Gallery and the accepted works from the "Frame Your Pet" Competition in the Carriage House Gallery.  A reception for the artists and public is planned to coincide with Ogden's Art Stroll on Friday, May 7, 2021 from 5 to 8 p.m.
A versatile artist working primarily in oil, Keith A Dagley, uses both knife and brush techniques.  Dagley is also known to work with pastels, graphite, prisma pencil and alcohol ink and is inspired by his own experiences.  A love of family, horses and ranch life, wildlife, Native Americans and their culture - both past and present, provide a wide range in the body of his work.
Dagley shares, "Recording life, whether wild, domestic, present or historical, through my artwork fulfills a great need I have.  Capturing the personality of each person, animal, event and sharing them is the principle behind my paintings."
The staff of the Eccles Art Center with their love of pets are looking forward to see the entries and accepted work for the "Frame Your Pet" Competition.  We are expecting dogs, cats, birds, and guinea pigs as well as exotic pets to be represented.
The "Frame Your Pet" competition was open to resident Utah artists working in all media except photography.   Artists may enter up to two original works not larger than 20" x 20".  This is a juried and judged competition.  Accepted works will be exhibited.  Awards will be presented and posted during the art stroll and online.
The works from the May exhibits will be on display May 5 through 29, 2021. Gallery hours are weekdays 10 a.m. to 4 p.m. and Saturday 9 a.m. to 3 p.m.
Selected works by Keith Dagley
Selected works by Keith Dagley
---
"Frame Your Pet" Competition Winners
"Frame Your Pet" Competition Winners
"Frame Your Pet" Competition Entries
Frame Your Pet Competition Entries