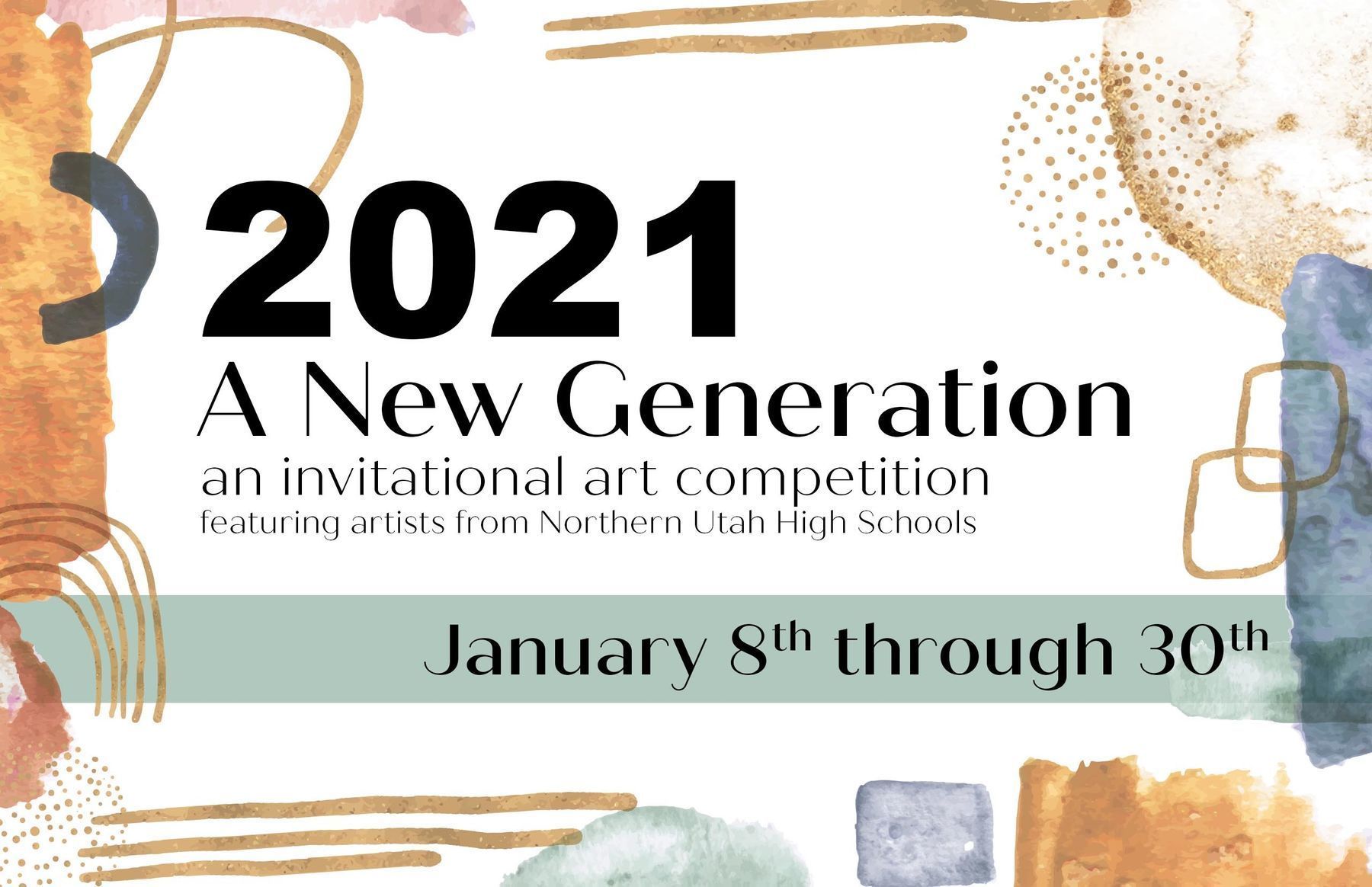 The Eccles Art Center, this January will exhibit: "2021 A New Generation" an invitational art competition featuring young artists from Northern Utah. The Carriage House Gallery will continue to display the accepted works from the Eccles Art Center's Petite Impressions Competition.  A reception for the artists is scheduled on Friday, January 8, 2021 from 5 to 8 p.m.  Exhibits remain on display through January 30, 2021.  A virtual tour of the 2021 New Generations exhibit may be reviewed at www.ogden4arts.org
With the assistance and referral from Northern Utah Art Instructors, young artists were invited to exhibit their most recent works.  Participating artist will include Ryan Adams, Amelia Anderson, Tristan Carpenter, Hannah Carter, Lily Deakins, Olivia Gonzales, Carlie Harper, Anna Holland, Alyssa Kendall, Nolan Kiser, Emma Larese-Cassanova, Jisung Lee, Angel Mendiola, Dykota Mercado, Jade Pebley, Gracie Songer, Solenne Songer, Karmen Tuescher, Bryn Vickery, Katherine Waters, Laura White, and Lindsey Wolthuis.
The Carriage House Gallery will continue to feature works accepted from Utah artists participating in the Eccles Art Center's Petite Impressions Competition.  The works are small under eight inches in any dimension and if framed the framing is under fifteen inches.  The competition was supported by new artists, those that are up and coming as well as professional artists in both two and three dimensional art.  Always a fun, variety of works to view.
Awards presented in this competition include:
First Place: Dwelling in Thin Air, Kristen Curry ~ Ogden
Second Place: East of Ashton, Lester Lee ~ Clarkston
Third Place: Passive, Darryl Erdmann ~ Farr West
Honorable Mentions:
Ready, Irene Rampton ~ Salt Lake City
Reframing a Desired Reunion, Jaycee Gray ~ North Ogden
Falling into Winter, Allen Brockbank ~ Centerville
Hunched, Martina Herbert ~ Park City
Deep Midwinter, Roberta Glidden ~ Ogden
Blue Heron, Cari Jenkins ~ Brigham City
One Leaf Pear, Neena Plant ~ Magna
Eccles Art Center's Student Award: Flowers Under Moonlight, Izzy Felix ~ Ogden
The Eccles Art Center staff invites you to join us to view these exhibits during regular gallery hours.  The Eccles Art Center's Covid gallery hours are Weekday 10 a.m. to 4 p.m. Saturday 9 a.m. to 3 p.m.