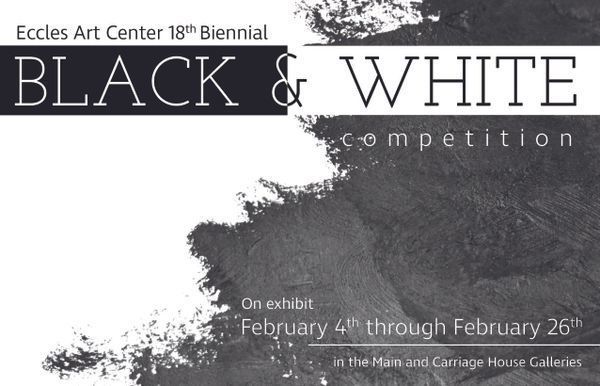 The Eccles Art Center's Main Gallery will open a juried exhibition of artwork from our 18th Black & White Statewide Competition.  This exhibition opened Friday, February 4, and continue on display through Saturday, February 26, 2022.   Admission to the art center's galleries are complimentary
The 18th Black & White Statewide, a juried biennial competition open to recent works by Utah artists. Original work in visual media, including paintings, prints, monoprints, drawings, graphics, photographs, pottery, sculptures and textiles are eligible.   Giclee and other reproduction prints are not accepted. The Eccles Art Center is not currently equipped to exhibit audio or video entries.  Works displayed will be in black, white and/or shades of gray.  The art center staff appreciates the assistance of the juror which reviews and curates works chosen for the exhibit as well as assisting in the judging of awards.  This competition is popular with Utah artists, photographers and art center patrons.
The public is invited to visit the Eccles Art Center and Carriage House Gallery during regular gallery hours.  Regular Gallery Hours are Monday through Friday 9:00 a.m. until 5:00 p.m. and Saturdays 9:00 a.m. until 3:00 p.m. 
---
Black and White Competition Award Winners
Black and White Competition Award Winners
Click the buttons below to see a slideshow of the 18th Black and White Competition