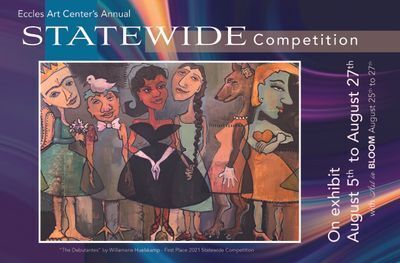 Starting August 24th, our exhibit will change from the Statewide Competition to Art in Bloom, which run August 25th at 5 pm through August 27th.
The Eccles Art Center, 2580 Jefferson Avenue, Ogden is announcing it 48th Annual Statewide Competition Exhibit. This statewide competition is open all artists who presently reside in the state of Utah. Original work in a variety of media, including paintings, prints, monoprints, drawings, graphics, pottery, sculptures, and textiles are eligible.  Works must have been completed within the past two years and not have been previously exhibited in a juried exhibit sponsored by the Eccles Art Center.  As this is a juried competition, only works accepted by the juror will be exhibited. This competition is always exciting due to the variety of work submitted.
An evening reception will be held on Friday, August 5, 2022 from 5 to 9 p.m. at the Art Center, 2580 Jefferson Avenue, Ogden.  Awards will be posted at this reception and along with a virtual tour on the EAC's website, Facebook and Instagram pages. The competition exhibit will be on display August 5 through 27, 2022.  Regular gallery hours are weekdays 9 a.m. to 5 p.m. and Saturday 9 a.m. to 5 p.m.   
Saturday, August 6, 2022 will be this year's first Summer Art Fair date with artists' booths and performing artists on the art center's renaissance campus from 10 a.m. to 2 p.m.  A popular outdoor event in 2021; the Eccles Summer Art Fairs are offered each Saturday in August through August 27, 2022 from 10 a.m. to 2 p.m.   Children's art activities will be available at the fair. Admission is complimentary.
The Eccles Art Center in celebration of the beauty of flowers, art and summer will exhibit The Art In Bloom competition with works by resident Utah floral artists and interior designers.  Original floral designs will be created to accompany art works from the 48th Annual Statewide Competition.  Categories will include permanent botanicals and fresh floral material.  This competition is open to Floral and Interior designers, a call for entry may be reviewed on the Eccles Art Center's website: www.ogden4arts.org. Designers may enter to participate through August 22, 2022.  Designs completed for the Art in Bloom Competition will be on display Friday, August 26, 2022 from 9 a.m.  to 5 p.m. and Saturday, August 27, 2022 from 9 a.m. to noon with complimentary admission.  A silent auction of floral artistry and reception will be presented Thursday, August 25, 2022 from 5 to 7 p.m.  A $10 donation is requested at the door for the auction and reception.  The sponsors for this event are Olive and Dahlia, Deon Gooch, and Patrick Poce.
You are invited to visit the Eccles Art Center for this diverse variety of events throughout August 2022. Regular gallery hours are Monday through Saturday 9 a.m. to 5 p.m.
---
---
Statewide Competition Award Winners