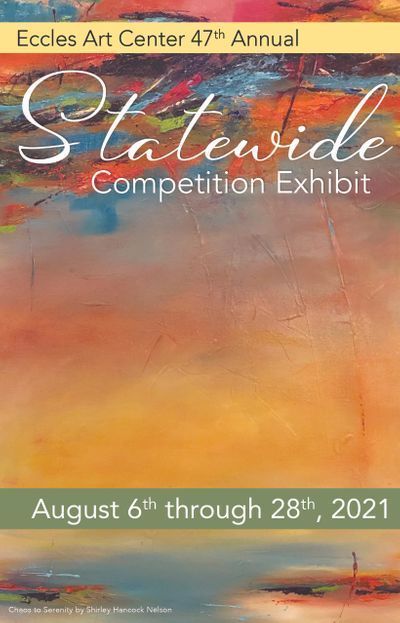 The Eccles Art Center, 2580 Jefferson Avenue, Ogden is announcing it 47th Annual Statewide Competition Exhibit. This statewide competition was open all artists who presently reside in the state of Utah.   Original works including paintings, prints, drawings, graphics, pottery, sculptures, and textiles.  As this is a juried competition, only works accepted by the juror will be exhibited. The reception for artists, friends and the community will be held on Friday, August 6, 2021 from 5 to 8 p.m. at the Art Center, 2580 Jefferson Avenue, Ogden.
The 47th Annual Statewide exhibit will be on display August 6, through 28, 2021.  Regular gallery hours are weekdays 9 a.m. to 5 p.m. and Saturday 9 a.m. to 3 p.m.   A virtual tour of the exhibit may be reviewed online at www.ogden4arts.org
The Eccles Art Center in celebration of the beauty of flowers, art and summer will exhibit competition works by resident Utah floral artists and interior designers.  Original floral designs will be created to accompany art works from the 47th Annual Statewide Competition.  Categories will include permanent botanicals and fresh floral material.  Awards will be presented in both categories.  A silent auction of floral artistry and a gathering for designers, friends, and the community will be held Friday, August 27, 2021 from 5 to 7 p.m.  A $10 donation is requested at the door.  Silent auction floral works not sold on August 27th will be available on the 28th. Designs completed for the Art in Bloom Competition will be on display for the public August 28, 2021 from 10 a.m.  to 2 p.m. with complimentary admission.   
August 28, 2021 Harmon's Floral and the Eccles Art Center will offer a flower arranging workshop "From Bucket to Vase" at 10 a.m. and at 11 a.m.   This workshop is offered complimentary.  Space is limited, and will be first come first served until the spaces are filled.
Between 11 and 11:30 a.m. a naming ceremony for the Sharon Macfarlane Performing Arts building will pay tribute to Sharon.  Mrs. Macfarlane was the executive director for the Ogden Symphony and Ballet from 2001 to 2016.  The renamed Onstage Ogden will continue to call the Sharon Macfarlane Performing Arts Building its home.
The Eccles Art Center will have supplemental activities on August 28th including artists' booths and performers for the Summer Art Fair from 9 a.m. to 2 p.m.  The public is invited to shop the booths and galleries while enjoying the scheduled entertainment.  The dancers of Nuevas Raices de Bolivia Ballet Folklorico are slated to perform on a closed Jefferson Avenue.  Also on Jefferson Avenue from 11 a.m. to 2 p.m. the Eccles Art Center will have live artists painting, some will have their work available to purchase. The Eccles Art Center staff can accept cash, credit/debit cards, Venmo, and Paypal. A portion of the sales of works by these artists will be donated to the art center.  The Eccles Art Center will have additional works and opportunities offered for donors as a part of the EAC's Queen of Aces fundraising Arts Festival.  Food trucks are expected in the vicinity for those wishing to purchase a bite to eat.
47th Annual Statewide Competition Winners
47th Annual Statewide Competition Entries
Statewide Competition Entriews