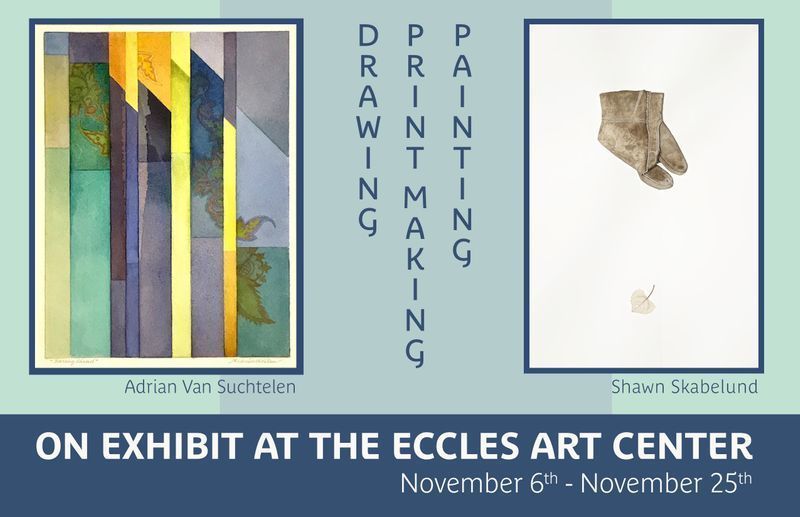 During November 2020, the Eccles Art Center, 2580 Jefferson Avenue, Ogden will feature an exhibit of drawing, printmaking and paintings by Adrian Van Suchtelen of Logan, Utah and Shawn Skabelund of Flagstaff, Arizona.  The Carriage House Gallery will display a retrospective and sale of  Miss Jayne Blair's artwork.  An artists' reception in association with Ogden's Art Stroll will be held on Friday, November 6, 2020 from 5 to 8 p.m.  Join us at the reception to view the creation of art by the EAC's student scholarship holders.  Gallery exhibits continue through November 25, 2020. 
Van Suchtelen's work in this exhibit will include his abstracted environmental works. Van Suchtelen holds a BFA and MFA degrees.  He joined the faculty at USU in 1967 where he was the graduate director and was in charge of drawing courses.  He also taught courses in painting, printmaking, and sculpture.  He has been a visiting professor conducting workshops at universities and art centers throughout the intermountain west. As a producing artist he has exhibited and won recognition in competitive shows, regionally and nationally.
Shawn Skabelund is an artist, independent curator and educator based in Flagstaff, Arizona.  He works with and in specific landscapes to reveal their complex issues, ecologies and cultural histories.  For nearly three decades, Skabelund has been known for site-specific installations. These projects have unfolded throughout the American West, from Bandelier National Monument New Mexico, to Wrangell Mountains Center, Alaska, and from Alma, Kansas to Joshua Tree, California.  Skabelund received his MFA in Drawing/Painting from the University of Iowa in 1990 and his BFA in Drawing from Utah state University in 1987.
The Carriage House Gallery will feature paintings created by Miss Jayne Blair of Ogden, Utah.  This eclectic exhibit will include works from her Christmas tree, Displace art and Taffy collections.  Miss Blair has donated her work to the Eccles Art Center to assist in the raising of funds for the center's numerous youth related programs.
The Eccles Art Center staff is excited to have our visual arts scholarship holders participate in the November First Friday Art Stroll.  These young artists, Cameron Hubbard, Ryan Adams and Solene Songer will be creating and displaying works from their portfolio during the stroll.  For the past three years the Eccles Art Center has collected donations and presented scholarships to local visual art student's during the center annual fundraiser.
The Eccles Art Center staff invites you to join us.  The Eccles Art Center's Covid gallery hours are Weekday 10 a.m. to 4 p.m. Saturday 9 a.m. to 3 p.m.  The Eccles Art Center will be closed November 26 through 29, 2020.
---
Adrian Van Suchtelen Gallery
Adrien Van Suchtelen Exhibit Images
---
Shawn Skabelund Gallery
Shawn Skabelund Exhibit Images