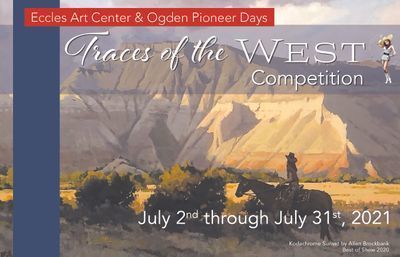 The Ogden Pioneer Days, and The Eccles Art Center's Main Galleries will display accepted western themed works from resident Utah artists during the Ogden Pioneer Days - Traces of the West Competition. With accepted works by professional and amateur plein air artists featured in the center's Carriage House Sales Gallery.  These statewide competitions will open Friday, July 2th and continue through Saturday, July 31, 2021. A reception for artists, and the public will be held in association with Ogden's Art Stroll on Friday, July 2, from 5 to 8 p.m.  Awards for both competitions will be posted at this reception.
The Ogden Pioneer Days—Traces of the West Statewide is competitive, open artists who presently reside in the state of Utah and which choose to work within a western theme.  Western themes include western landscapes, native Americans, cowboys, cowgirls, indigenous wildlife and domestic animals. Original works in a variety of media will be represented.  Reproduction prints and photographs will not be included in this exhibit.  Many of the works accepted for this exhibit will look fantastic in a mountain cabin, farm or ranch house creating a splendid addition to your western art collection.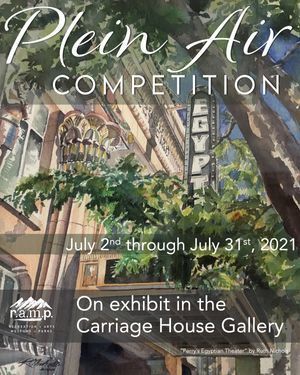 The Eccles Art Center's Plein Air exhibit is competitive; open to artists, professionals and amateurs, interested in create works outdoors, on-site not in a studio.  The exhibit will include original works painted between June 21st and 28th within the boundaries of Weber County.  The Plein Air Competition boundaries were established for artists to capture the historic architecture of Ogden and explore with paint the natural beauty of Weber County.  Patrons and art collectors are invited to view these freshly painted works or add one to their private collection.
The Eccles Art Center's regular gallery hours are Monday through Friday 9 a.m. to 5 p.m. Saturday 9 a.m. to 3 p.m. The center is closed Sundays and major holidays. For information, please call 801-392-6935
---
2021 Traces of the West Award Winners
2021 Traces of the West Award Winners
---
2021 Traces of the West Entries
2021 Traces of the West Competition Entries
---
2021 Plein Air Award Winners | Professional Category
2021 Plein Air Award Winners Professional Category
---
2021 Plein Air Award Winners | Amateur Category
---
Plein Air Entries
To place a bid on or purchase any of the Plein Air Competition entries, please call (801) 392-6935
Plein Air Competition Entries