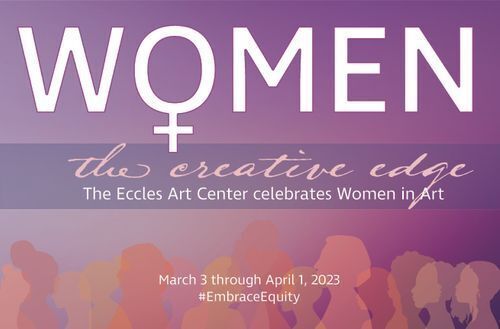 During March 2023, the Eccles Art Center celebrates the creativity of Utah's women artists.  The Fourth Annual "Women: The Creative Edge" will display the artworks notable resident Utah Women Artists on March 3, 2023.  A reception for the artists and the public will be presented   Friday, March 3, 2023 from 5 to 8 p.m.  The exhibit will remain on display at the Eccles Art Center, 2580 Jefferson Avenue, Ogden through March 25, 2023.  Admission to the center's exhibits is complimentary.
"Women: The Creative Edge" is a competitive exhibit with a number of notable and up an coming Utah women artists registered including Evie Adams, Linda Babcock,  Brenda Brunello, Barbara Busche, Margy Campbell, Aleta Cobabe, Emily Cook, Catherine Darling Hostetter, Sara Davis, Charis Derry, Wendy Dimick,Breein Donoviel Clark, Judy Elsley, Roberta Glidden, Laurie Harrower, Dara Hartman, Kristy Hawkes, Nona Horsley, Willamarie Huelskamp, Judith B Jones, Cara Koolmees, Harlee Lammert, Sara Mcarthur, Cindy McConkie, Julia Miller, Nancy Ness, Heather Olsen, Noelle Perry, Hazel Phipps, Anna Pottier, Irene Rampton, Ingrid Sanchez, Jeanne Sheehan, Lucille Transtrum, Mary Wells and more.  The Eccles Art Center staff is pleased that this exhibit will feature artists with a variety of art form from paintings to sculpture, textiles to pottery, handmade books to paper collage, and glass.  Awards will be posted during the artist reception on Friday, March 3, 2023 and may be viewed on the Eccles Art Center's website: www.ogden4arts.org.
Join us for the reception or visit during regular gallery hours. The Eccles Art Center's gallery hours are Monday through Friday 9 a.m. to 5 p.m. Saturday 9 a.m. to 3 p.m. The center is closed Sundays and major holidays.

2023 "Women: The Creative Edge" Competition Winners
Women: The Creative Edge Winners
---
---