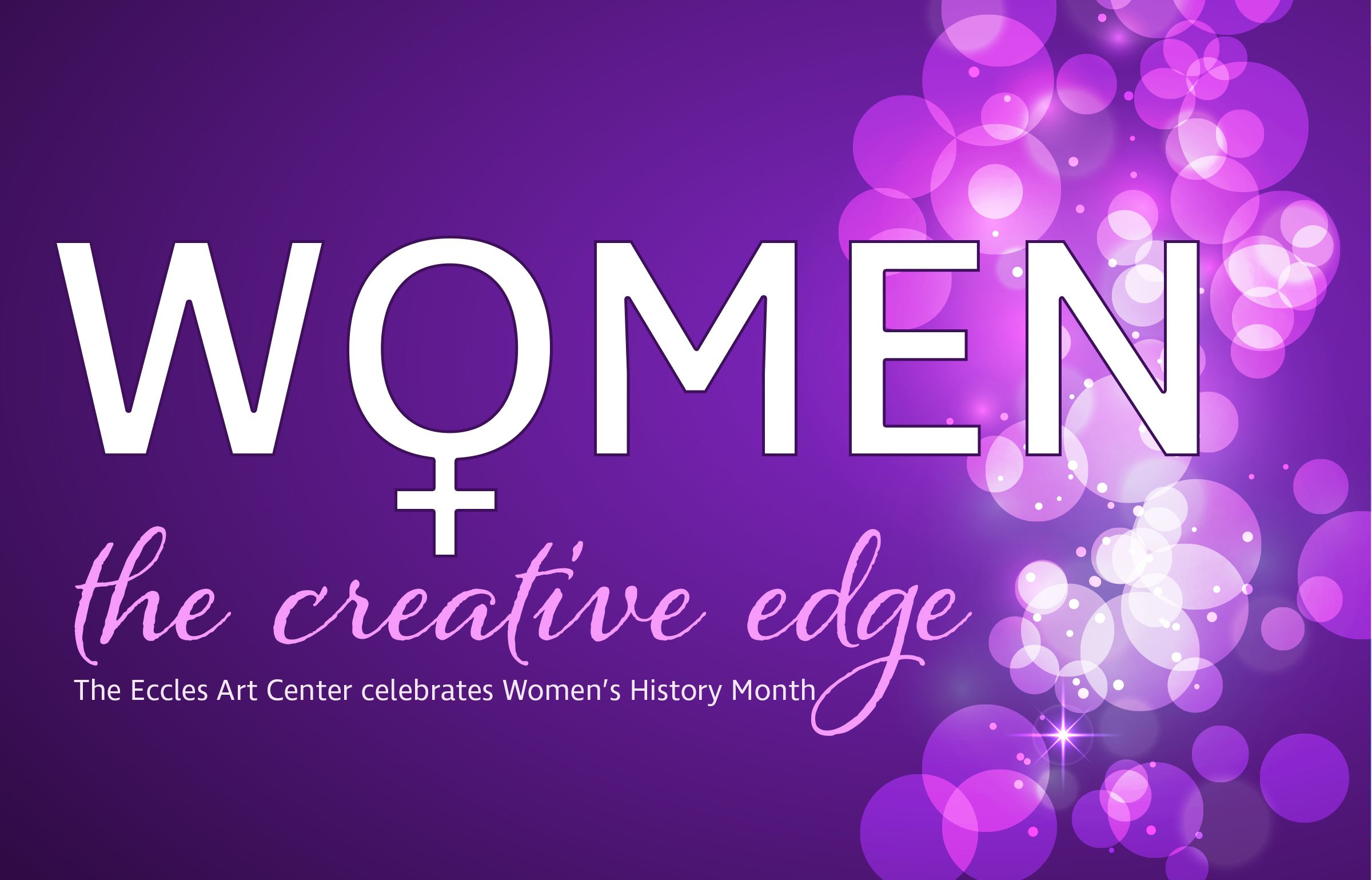 Video #1 in our Virtual Tour of "Women: the Creative Edge"
Video #2 in our Virtual Tour of "Women: the Creative Edge"
International Women's month and National Women's History month is celebrated in March.  With this in mind and the 100th anniversary of the ratification of the 19th amendment, The Eccles Art Center celebrates the creativity of Utah's Women Artist with a variety of events. 
The Eccles Art Center's March exhibit: " Women: The Creative Edge" will open with a reception for the artists and the public on Friday, March 13, 2020 from 5 to 9 p.m.  A total of $2500 in prizes will be awarded to the artists. The awards will be posted at the artists' reception. Works from this exhibit will remain on display at the Eccles Art Center, 2580 Jefferson Avenue, Ogden through March 28, 2020.  Admission to the center's exhibit is complimentary.
"Women: The Creative Edge" is an invitational competitive exhibit.  The Eccles Art Center's staff is excited to represent so many wonderful Utah women artists including: Nancy Alt, Terrece Beesley, Kate Bruce, Brenda Brunello, Laurel Casjens, Roberta Glidden, Aleta Cobabe, Meri DeCaria, Dr. Judith Elsley, Lauri Eskelson, Robin Lewis Farr, Bonnie Frucci, Marj Graham, Kristi Grussendorf, Patricia Hansen Nona Horsley, Cynthia Jeppson, Helen Lauritzen, Julie Lewis, Samantha Long, Jessica Michaelson, Michelle Montierth, Julie Nelson, Nancy Ness, Sue Poulsen, Barbara Price, Hadley Rampton, Elizabeth Robbins, Cindy Roberts, Darla M Roberts, Debbi Sigg, Susan Snyder, Julie Strong, Arlene Toone, Bonnie Wahlen, Mary Wells, Anna Zumwalt and more.  The exhibit will be varied with paintings, textiles, sculpture, pottery, handmade books and more.
In association with Women: The Creative Edge, the Eccles Art Center staff will hold a tea and open artist studio tour on Saturday, March 14th from 10:00 a.m. to 2:00 p.m.  A voucher will be available for your $5.00 donation at the Eccles Art Center, 2580 Jefferson Avenue, Ogden.  A map with the address of artists' studio will be included with this voucher. Visit the studios of Nancy Alt, Roberta Glidden, Cara Koolmees, Shanna Kunz, Elizabeth Robbins, Bonnie Wahlen and Urban Studio.  Light refreshment may be enjoyed at the Eccles Art Center.
NEXT Ensemble will present their annual "Women in Music" concert at the Eccles Art Center on Saturday, March 21, 2020 at 6:30 p.m.  This concert will be performed by an all-woman ensemble playing music written by women. The Ellen Taffe Zwillich's Quintet for Piano, Violin, Viola, Cello and String Bass will be featured.  Tickets are $10 and may be purchased on-line at nextensemble.org.
The Eccles Art Center's regular gallery hours are Monday through Friday 9 a.m. to 5 p.m. Saturday 9 a.m. to 3 p.m. The center is closed Sundays and major holidays including July 4th, Independence day, and July 24th, Statehood day. For information, please call 801-392-6935
---
For Educators
Lesson Plan about Women in Art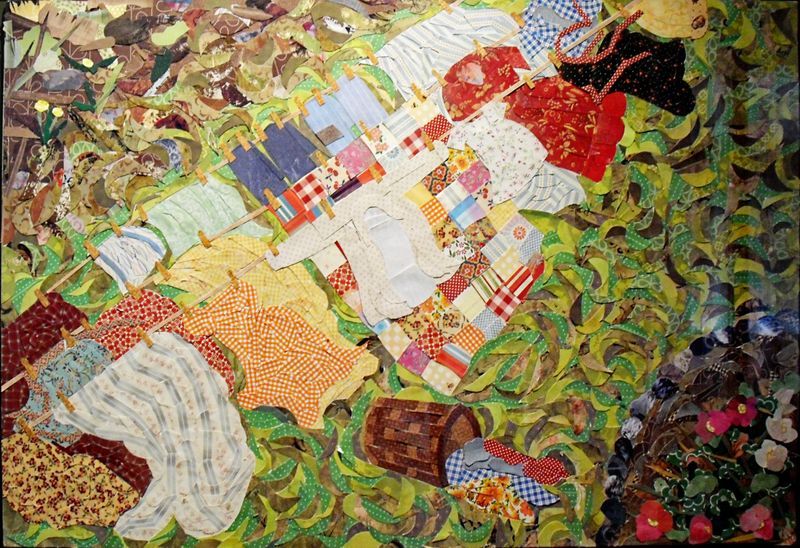 Melody Jean Johnson - Visual Artist
Research by Sharon Freya
                      "...All art is communication; all artists are storytellers…"
~ Melody Jean Johnson
Melody Johnson was born in 1947 in Saratoga Springs, Utah.  She studied Theater Education at the University of Utah, and History and Theater at Brigham Young University.
She taught at Alpine School District, until in 2010, she made the commitment to work on her Art full time in Lehi, Utah.
Melody came late to Visual Art.  In High School, she taught history, directed plays, acting and writing.   She discovered art while teaching and took every College class on Visual Art she could until she was certified to teach it.  She has worked in a multitude of mediums, including oil and casting her own bronzes.
Melody discovered her passion for using paper to create her art work when she was teaching a class about the artist Van Gogh.  She was inspired to "...follow his way of creating movement by the direction of his brush strokes."  but, instead of paint, she used cut and torn paper.
Melody was also inspired by the artist Saurat's technique on how the eye blends colors.  She would use bits of pattern paper to create this effect.
Melody's art has a Folk Art quality and charm to it.  "The inspiration for my work comes from the simple things in my life, catching the color of the sky and water on Utah Lake out my back window." Melody continues, "Since retiring from teaching, this is what I do.  I glued little pieces on big pieces of paper." 
To us, it is much more than that.  With her use of paper - various shapes and colors, she creates movement in her Art.  Melody said she found the "...perfect medium to tell my stories."
Melody Jean Johnson died on December 9, 2019.  Yet, she lives on in her art, an "Organic Freeform".  She delights us with her ability to take pieces of paper, colored and patterned, and cut and shape them like brush strokes.
The piece of art we looking at, is titled "Wash Day".  It is a paper collage by artist Melody Jean Johnson- this piece is made up entirely of paper.   
---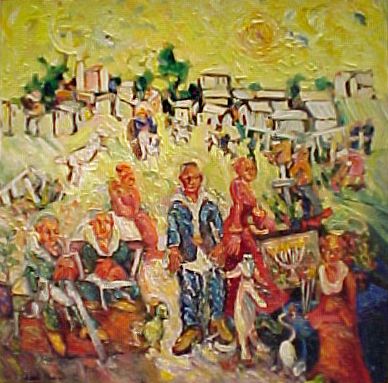 Linda Lee Shimmin _ Visual Utah Artist
Researched by Jill Sjoblom
Linda Lee Shimmin was born May 9, 1940. She was the 2 nd daughter in her family. She had a younger sister and brother. She grew up in Orem Utah. At age 5 she started violin lessons. Her parents gave her the choice of which instrument she wanted to play and were very supportive of all their children's music lessons. About the same time, she started drawing, teaching herself art. In school, she double majored in Art and Music. When she was a sophomore in college, she realized she wouldn't have as many opportunities to make money in art and music, so she focused on being an educator. She earned her Bachelor of Art Degree in Music at BYU in 1962, Returning in 63 for her teaching certificate. She earned her Masters of Art Degree in Painting from Utah State University in 1977. She moved to Vernal Utah to teach music at Ashley Valley Junior High School, where she taught until 1966. In 1966 she split her time at the Junior high and the High School where she was needed in the music department.

She married John Shimmin, a dentist. John had 3 children, Stuart, Linda and Verna from a previous marriage. Together she and John had a son, Daniel.

Linda Lee was influenced by the Impressionist artists. Especially Van Gogh, Monet and Cezanne. She is not afraid of bright colors, which is reflected in her work. Her Piece "The Father Shall Dance" which is part of the Eccles Art Center Permanent Collection, was painted while she was doing figure studies. It is also from what she refers to as her "period of biblical influence ". Where she enjoyed painting groups of families. She likes to change her subject matter often and likes to experiment. She prefers painting with oils because "it's forgiving" and it "has a wonderful feeling". She loves to work in impasto and other textural painting techniques, as she likes the "warmth she gets from the colors and texture." She also draws in pen and ink. She never paints from a reference photo or plein air. She likes to paint "whatever comes out of her brain". She and her husband visited Africa 9 times. She is particularly fond of Kenya. It inspired her artwork. She did a series of animals that they encountered while in Kenya where "hunting is not permitted so the animals are not so skittish."

She and her husband John where active in the local Rotary Club for 25 years. She has been active in the local chapter of PEO (Philanthropic Education Organization) since 1974 because she feels importance in helping women with their education.

Linda Lee stays very active. She swims laps 3 days a week for 1 hour. She hikes and walks. She plays the piano and paints in her studio daily; accompanied by her St. Bernard Joey.

She says she enjoys everyday and is thankful to wake up feeling pretty good each morning. She truly loves the Eccles Art Center and says, "It's one of the best art galleries in the state."

A friend of hers, Amy Farnsworth says, "I want to be just like Linda Lee when I am 80!"

So do I!