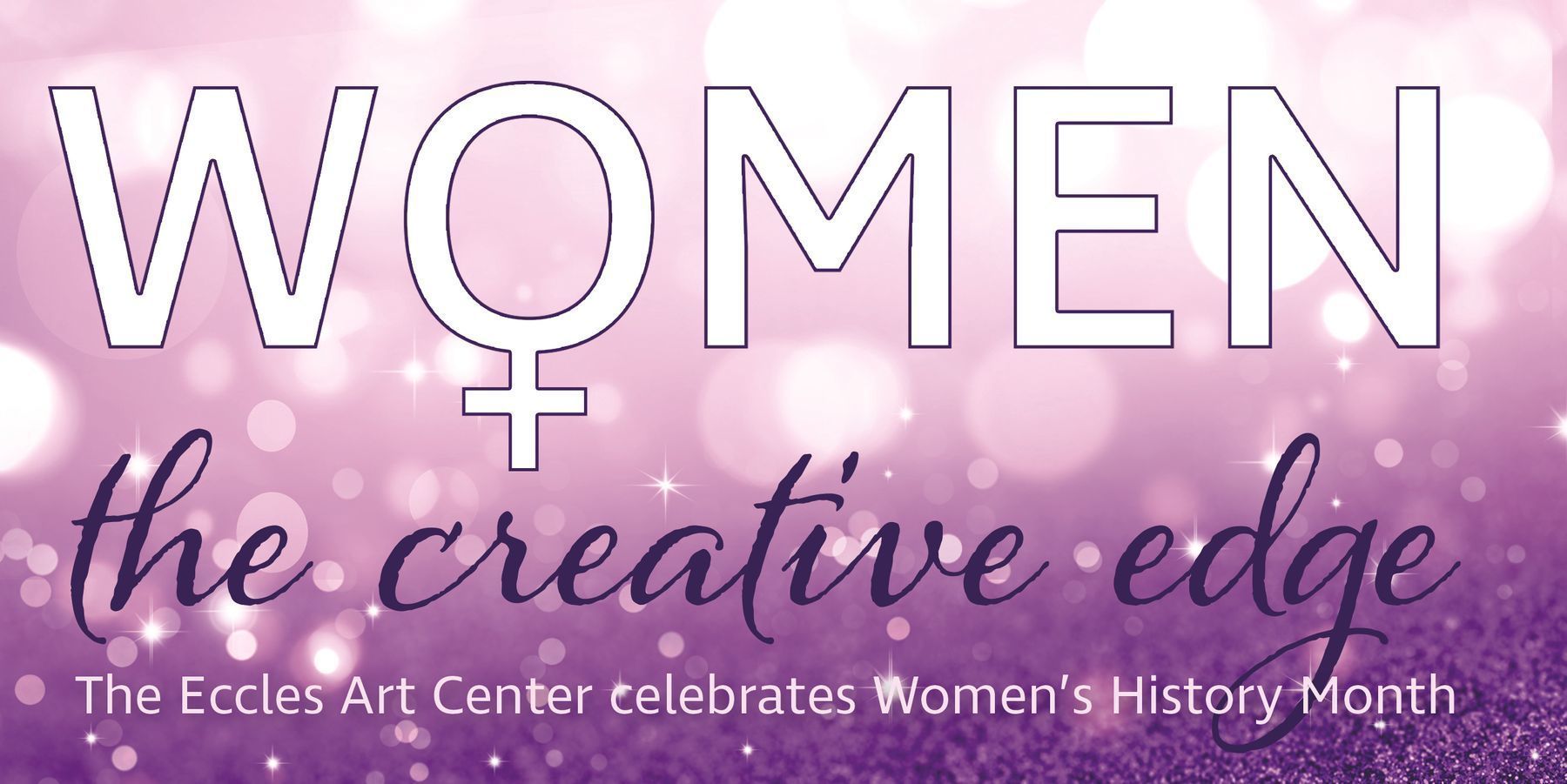 The Eccles Art Center will be curating a competitive exhibit during March 2021.  March 8th is International Women's Day.  The Art Center will present the 2nd Annual Women: The Creative Edge exhibit March 5 through 27, 2021.
The Eccles Art Center invites women, who are residents of Utah, to participate with the submission of art in the 2021 Women: Creative Edge Competition/Exhibit.
Submission:
A submission fee of $25 to submit up to two (2) works per category.  Categories include:  Two dimensional or works to be hung on the gallery walls and three dimensional works or works that are displayed on pedestals will be charged. Artists wishing to compete in both categories will be charged a submission fee for each category.  It is up to the artists to submit their best and newest work.  We would appreciate the work being completed within the last two years.  Artists will be responsible for delivery and retrieval and any fees that may be incurred due to shipping.  The Eccles Art Center will retain a commission of 35% on works sold during the exhibition.
Awards: A total of $2500 in prizes will be awarded, with a Best of Show and awards in each of the two categories: art on the wall and display art.
Schedule:
January 31, 2021 - Application returned/fees paid
February 23 – 25, 2021 - Art work received at the Eccles Art Center, at 2580 Jefferson Avenue, Ogden Utah 84401.  The EAC is not liable for art work while in transit. Deliveries accepted between 10 a.m. and 4 p.m.
March 5, 2021 - 5 to 8 p.m. Artist reception, awards posted, meet and greet.
March 29 - 30, 2021 - Unsold art work available to be retrieved.
Women: The Creative Edge Competition/Exhibit is open to the public March 5 through 27, 2021 during COVID gallery hours: weekdays 10 a.m. to 4 p.m. Saturday 9 a.m. to 3 p.m. Admission is complimentary.
Application:
Women: The Creative Edge is accepting applications.  The notice of application must be received by Eccles Art Center staff by January 31, 2021.  Please mail your notice of acceptance to:
                        Eccles Art Center
                        2580 Jefferson Avenue
                        Ogden, Utah 84401
Or an application may be filled out on-line below.
Art work must be received at the Eccles Art Center during regular gallery hours February 23 through 25, 2021.  The Eccles Art Center is not responsible for works damaged due to incorrect or poor framing.  Framed works must be wired for framing. Works will not be accepted with only alligator hardware, D-ring, V-ring or keyhole hangers under any circumstance.
Questions:
Please call Eccles Art Center staff at 801-392-6935 on weekdays during COVID gallery hours or email: debra@ogden4arts.org
---
Women: The Creative Edge 2021 Submission Form