Utah Watercolor Society Bi-annual "Two Star/Signature" Exhibition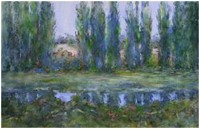 Standing Tall, by Karen Heffernan
In January, The Eccles Community Art Center, 2580 Jefferson Avenue, Ogden will be presenting the Utah Watercolor Society (UWS) bi-annual "Two Star/ Signature" Exhibit in the Main Gallery  and continue the exhibit of works from the Fourth Annual Petite Impressions Competition .   A reception for the artists and public is planned to coincide with Ogden's Art Stroll on Friday, January 5, 2018 from 5 to 8 p.m.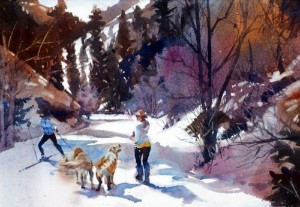 The Utah Watercolor Society (UWS) Bi-annual Two Star/ Signature  Exhibition showcases work from members whose entries have been accepted into at least two UWS competitions earning a Two Star status or who have achieved Signature status.  Viewer are invited to enjoy the incredible efforts of UWS members and others. UWS is a 350+ member, non- profit organization formed to further the activity and interest in water media.  More UWS information is available at www.utahwatercolor.org.  The watercolors will remain on exhibit through January 27th.
The Eccles Community Art Center's board and staff were pleased to receive 166 works by 110 resident Utah artists.  Juror/artist, Doug Braithwaite chose 141 works to exhibit in this competition.  Awards presented include:
First Place:       Quiet
                        Natalie Shupe ~ Liberty
Second Place: Bountiful
                        Mike Gardner ~ West Haven
Third Place: Sesen
                        Joyce Stillwell ~ Ogden
Honorable Mention:
                        On the Eve of Winter Brenda Brunello ~ Providence
                        Plains Monarch  Jerry R Hancock ~ Ogden
                        Road Into Town Tim D Peterson ~ Ogden
                        Chilly Night Taylor Spinozza ~ Ogden (under 18 years old)
                        Curious Cow Cory N Strupp ~ Salt Lake City
The staff of the Eccles Community Art Center invites you to visit these exhibits on January  in association with Ogden's First Friday Art Stroll, and to return during the month to enjoy the art.  Regular gallery hours are weekdays 9 a.m. to 5 p.m. and Saturday 9 a.m. to 3 p.m.  For information call us at 801-392-6935.