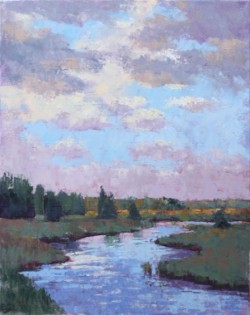 During May, The Eccles Community Art Center, 2580 Jefferson Avenue, Ogden will be presenting the paintings of Ogden Artist Roberta in the main Gallery, featuring the paintings of Barbara Nix of South Ogden in the Carriage House Gallery, and exhibiting recycled works created by Utah teens ages 12 to 21 years old.    A reception for the artists and public is planned to coincide with Ogden's Art Stroll on Friday, May 4, 2018 from 5 to 8 p.m.
"The task of the painter is to sort out complicated nature; to find the structure.  One must resist "copying", asking "what is this painting about?" artist Roberta Glidden explains.  "Once a strong design is decided upon, the next task is to block in the color shapes, to indicate what is foreground and what is background.  As I paint I hear the voices of the local masters with which I have studied singing in harmony, "keep it simple, stand back, make sure every stroke has a purpose!''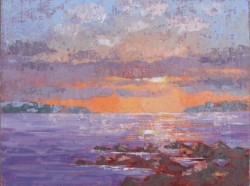 "For this exhibit, I made a decision to put the brushes away, and grab the palette knifes" Glidden continues. " It is like painting with my left hand, very scary.  Once I start, I get braver as I smack down "pieces of paint".  This simple technique has altered how I look at the subject, be it landscape, figure, or still life.  It's satisfying to apply a serious layer of paint to the canvas and watch as interesting edges develop.  The limitation of brushes is that the can create a smeary quality, a sense of indecisiveness."  Glidden indicates that she has added "pieces done mainly with brushes, so the viewer can compare the results."
Barbara Nix states that her goal is "to capture and preserve the beauty that surrounds us."  Barbara has studied local with artist like Scott Wallis.  Her creative pursuits have included painting and music.  She is a retired piano teacher.
Barbara is most proud of her family accomplishments.  She and her husband are the retired owners of Claude H Nix Construction, Inc.  She is a mother of 3, a grandmother of 9 and a great-grandmother of 1.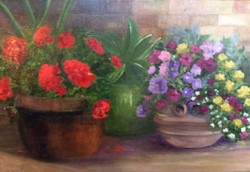 The Eccles Community Art Center's recycled art competition is open to youths ages 12 to 21 years old  from public, independent, charter, home schools or community youth organizations.  Youths may submit an original creation made in class or at home from recycled materials.  This is a judged competition and awards are given.  The exhibit is on display from April 24 through May 9, 2018.  Awards will be posted on the work during the May 4th art stroll.
The staff of the Eccles Community Art Center invites you to visit these exhibits on May 4th in association with Ogden's First Friday Art Stroll, and to return during the month to enjoy the exhibits.  Regular gallery hours are weekdays 9 a.m. to 5 p.m. and Saturday 9 a.m. to 3 p.m.  For information call us at 801-392-6935.