The Eccles Community Art Center will be opening two new exhibits and rededicating the center's performing arts building in October.  The paintings of Mac Stevenson of North Ogden will be on display in the Main Gallery; while in the Carriage House Gallery the art of members of the Tom Plummer Gallery will be featured.  A reception for the artists is scheduled during the First Friday Stroll, October 6 from 5 to 8 p.m.  The rededication of the Dean & Carol Hurst Performing Arts Building will happen on this same Friday, October 6th beginning at 5 p.m.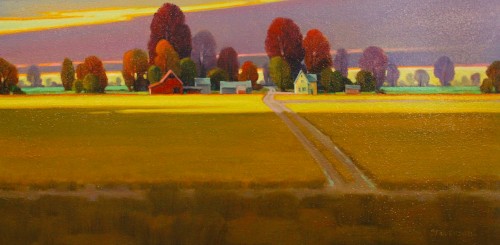 Mac Stevenson is known for his landscapes with magnificent colored skies and clouds, and they will be included in this exhibit.    Stevenson exhibits locally in Gallery 25 on Ogden's historic 25th street.  His work is represented nationally  in galleries in Milwaukee, Wisconsin, and New Buffalo, Michigan.
This year as well as others, Stevenson participates in the Scottsdale, Arizona season long (January through March) exhibit and sale with other outstanding artists from across the US and Canada.  Each artist has a studio space to display their artwork, and create new works.  Some works include in this exhibit were painted in Scottsdale.  They have a more contemporary flavor as Stevenson has used simplified shapes and intense color along with sound design.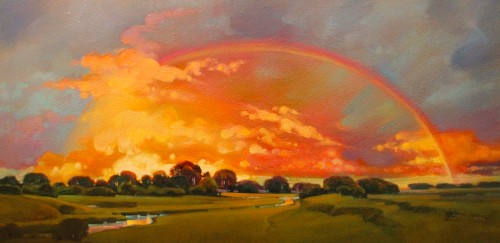 Tom Plummer is a Salt Lake City artist.  He is the curator of an exhibit with his fellow artists: Sherman Bloom, Amelia Ence, Linda Hoffman Kimball, Marian Dunn, Michelle Emery, Irene Rampton, Rosemary Baron, Leonard Romney, Leslie Olpin Petersen and Bessann Swanson.  This exhibit will contain an assortment of themes and media, well worth a peek.
The rededication of the Performing Art Building to the Dean & Carol Hurst Performing Arts Building will be presented as a thank you to all who provided funds to the ECAC capital campaign for the renovation of this building.  The dance studios have been renamed after donors Arlene B. & Paul W. Muller, and Judith B. & Leon Jones.  One of the building walls features the names of the donors who assisted with funds to complete this project. 
Students and teachers will be present to demonstrate a couple of the unique classes offered in building.  It is used not only for dance and drumming classes, but its studios have become the home of the center's Tai Chi and Yoga classes.  Virginia Tanner Creative Dance, University of Utah uses the Performing Arts Building as a satellite studio for their children's dance theatre classes.  Join the ECAC staff for a tour of the space.
The exhibits of Mac Stevenson and the Tom Plummer Gallery will remain on display through October 28, 2017.
We invite you to visit the Eccles Community Art Center and our galleries. Regular gallery hours are weekdays 9 a.m. to 5 p.m. and Saturdays 9 a.m. to 3 p.m.  Admission is complimentary. For information, please contact the art center staff at 801-392-6935