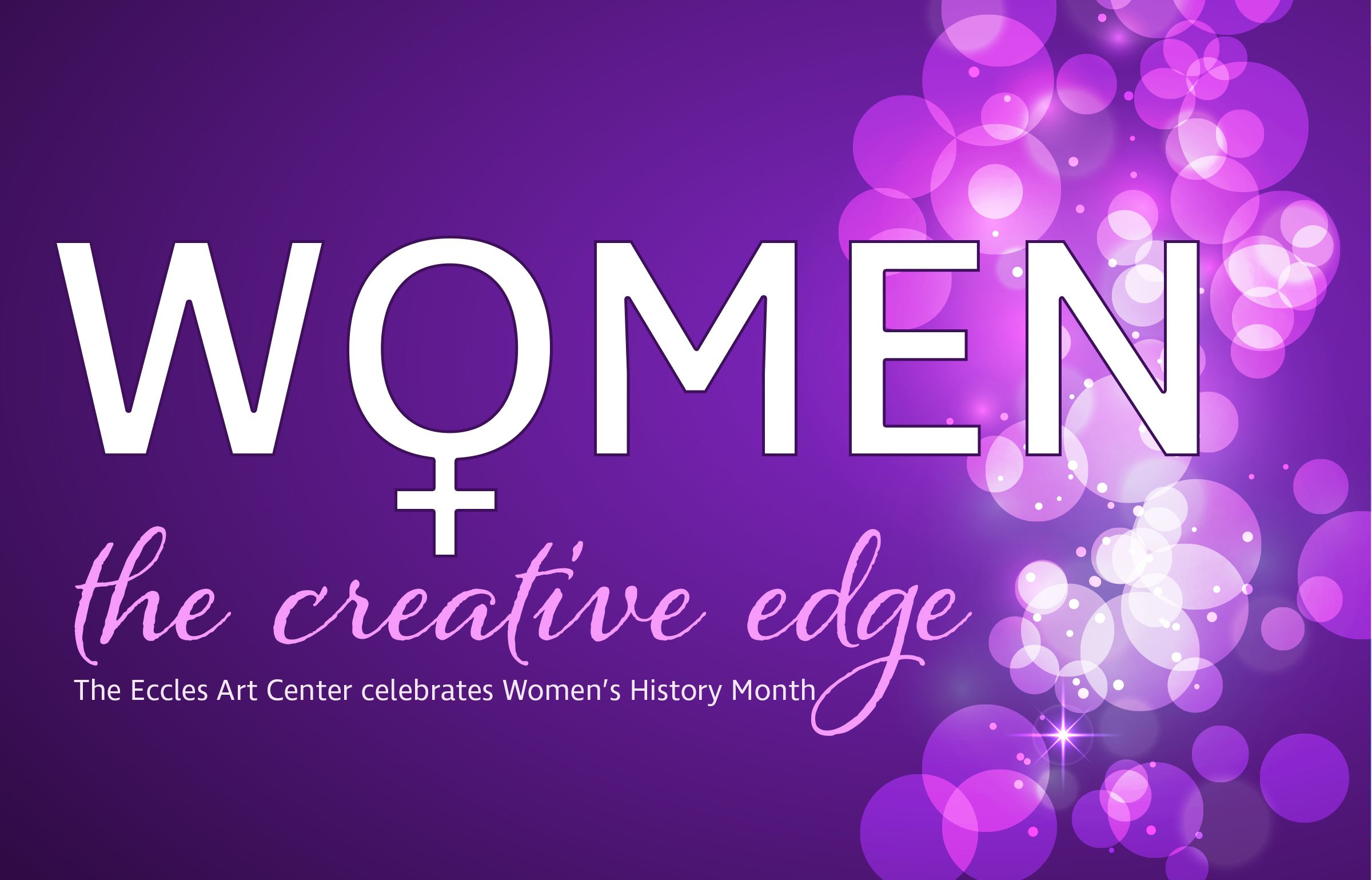 The Eccles Art Center will be curating an invitational exhibit and events during March 2020.  As March is International Women's History month. The Art Center will present Women: The Creative Edge.   During this month, the non-profit Next Ensemble will present a concert of works by women composers. We are working with Women Create and local artists to set up a Saturday studio tour and tea.  Other local non-profits will be approached to establish cooperative projects.
We would like to invite you to participate with the submission of art in the 2020 Women: Creative Edge Invitational Competition/Exhibit.
Submission:
A submission fee of $25 per artist to submit up to two (2) works – Two dimensional or works to be hung on the gallery walls and up to four (4) Three dimensional works or works that are displayed on pedestals will be charged.  As this is an invitational competition there will not be a jury process. It is up to the artists to submit their best work. Artists will be responsible for delivery and retrieval and any fees that may be incurred due to shipping.  The Eccles Art Center will retain a commission of 35% on works sold during the exhibition.
Awards:
A total of $2500 in prizes will be awarded.
With a Best of Show and awards in each of the two categories: art on the wall and display art.
Schedule:
January 31, 2020 Application returned/fees paid
February 10, 2020 Information mailed or emailed to Utah Schools with lesson plans about International Women artists and the Women: The Creative Edge exhibit.
February 18 - 21, 2020 Art work received at the Eccles Art Center, 2580 Jefferson Avenue, Ogden Utah 84401. The EAC is not liable for art work while in transit.
March 10 – 14, 2020 Sales of tickets for Studio tour and tea.  A donation of $5 is requested.
March 13, 2020 5 to 8 p.m. Artist reception, awards posted, meet and greet, refreshments service.
March 14, 2020 10 a.m. to 2p.m. Studio Tour and Tea, refreshments served at the Eccles Art Center.  Start at the Daughters of the Pioneers Museum, visit artist's studio and Where Women Create Urban Studio.  A donation of $5 is requested.
March 21, 2020 Beginning at 8:00 p.m.  Next Ensemble Concert
March 30 – 31, 2020 Unsold art work available to be retrieved.
Women: The Creative Edge Competition/Exhibit is open to the public March 11 through 28, 2020 during regular gallery hours: weekdays 9 a.m. to 5 p.m. Saturday 9 a.m. to 3 p.m. Admission is complimentary.
---
Women: The Creative Edge is accepting online applications. The online application must be received by January 31, 2020. If you would like to submit an application by mail, please send a request to debra@ogden4arts.org
Art work must be received at the Eccles Art Center during regular gallery hours, February 18 through 21, 2020. The Eccles Art Center is not responsible for works damaged due to incorrect or poor framing. Framed works must be wired for framing. Works will not be accepted with only alligator hardware, D-ring, V-ring, or keyhole hangers under any circumstance.
For Questions: 
Please call Eccles Art Center Staff at 801-392-6935 on weekdays during regular gallery hours or email debra@ogden4arts.org