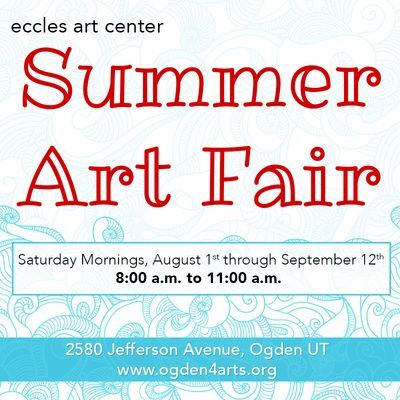 Spend your Saturday Mornings Supporting Local Artists
The Eccles Art Center, 2580 Jefferson Avenue, Ogden announces a Summer Art Fair in support of local artists.  The Art Fair will be held Saturday mornings August 1st through September 12th from 8 a.m. to 11 a.m. Art booths will be socially distanced around the Art Center's campus. Artists and patrons are asked to wear masks.  Hand sanitizing stations will be accessible.  Art from painting to pottery, jewelry to painted silk, wood to gourds, art prints to coloring books and handmade books will be attainable.
Each week, booths will include the work of artists such as Matt Conlon, Steve Stones, White Magnolia Studios, Magic King Illustrations, The Prickly Potter, Brannarey Illustration, Jim Martinez, Madelyn Mutter, Racquel Juarez, Amelia Morgan, Chandler Williamson and Vicki Silva.  Featured artists including Mary Well, Debbi Sigg, Christina Levi, Laurie Harrower, Greenleaf Grouds, Charis Derry, Artsy Zeph, Anna Siciliano, Sheila Woods, Bonnie Wahlen, Nancy Alt and Bear River Folk Art will provide art on limited Saturdays.  Each Saturday will bring a new diversity of art.
Local non-profit groups including the Junior League of Ogden and Weber County Heritage Foundation will be staffing booths.  Non-profit booths will provide community information about the groups and the projects they support.
The Eccles Art Center staff through the generosity of Weber County RAMP will be offering hands-on family art projects.  These make and take projects will be offered between10 and 11 a.m.
The Eccles Art Center Main and Carriage House Galleries will be open to view exhibits.  August 8th through 29th, accepted work from the 46th Annual Statewide Competition will be on display.  September 5th and 12th, The Main Gallery will be showing works by Salt Lake City artists: paintings of Jon Wasson, and the jewelry of Stephanie Saint Thomas; The Carriage House Gallery will feature Transportation Art by Ogden artist, Gene Chambers.
Join us at the Eccles Art Center's Art Fair, Saturday morning 8 to 11 a.m., August 1st through September 12th. Spend your Saturday mornings supporting local artists. 
Participating Artists will include:
Weekly:
Kayla Varnell, White Magnolia Studio
Steve Stones
Madelynn Mutter
Suzanne Marie King, MagicKing Illustrations
Kristen Curry, The Prickly Potter
Brianna Thaxton, Brannarey Illustration
Jim Martinez, Art by Jim Martinez
Raquel Juarez
Amelia Morgan
Matt COnlon Pottery
Chandler Williamson, Tyral Books & Customs
Vicki Silva
Limited Dates:
Mary Wells
Debbie Sigg
Christina Levi, Levi Art Studios
Laurie Harrower
Melinda Petro, Greenleaf Gourds & Greenhouse
Charis Derry, Paintings by Charis Derry
Toddy Hess, Artsy Zeph
Anna Siciliano & Sheila Woods, Anna Siciliano Fine Art
Non-Profits
Weber County Heritage Foundation
Junior League of Ogden
OnStage Ogden