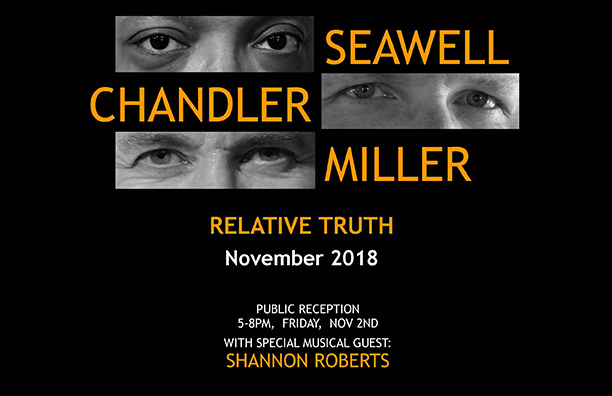 This November, the Eccles Art Center, 2580 Jefferson Avenue, Ogden, Main Gallery will feature the exhibit "Relative Truth" with art work by Collin Noortmann Chandler, Mark Seawell and Chris Miller. The Carriage House Gallery will display the photographs of Dr. & Mrs. Steven and Camille Cain.  A reception for the artists and an evening of holiday shopping is planned for Friday, November 2, 2018 from 5 to 8 p.m.  Shannon Roberts, director of bands, WSU will be providing the music during the reception. The exhibits continue through November 26, 2018.
Per the artists: "The "Relative Truth" show was created (figuratively) from the ashes of another intention.  Initially we had something different in mind, but found that plan thwarted. But we were in possession of a curious thing.  We had hundreds of photographs of one historic, if dilapidated, building taken on one unremarkable day, by three skilled and experienced artists with different sensibilities."  A fine art painter, Collin Noortmann Chandler, a digital artist/photographer, Chris Miller, and a traditional art photographer, Mark Seawell interpret the old Livestock Business Exchange Building.
"We had accidentally created the basis for a much more interesting exhibit, one that explored not the building, but what we, together and separately, brought to it, took from it, and then created from there."  These artists indicate that in relating to their works the viewer will become a part of the experience.

In the Carriage House Gallery, the photographs of Camille and Steven Cain, Dominion Photography feature images from their world travels.  "Photography has become the ideal companion to our travel.  Seven continents, the flora and fauna of countries abroad, and extraordinary cultures have illuminated our paths.  Recording and sharing images of the beauty and grandeur we have encountered has become our passion."  Not limited to landscapes, they have captured the power of the large African cats, the weathered, wisdom of a holy man, as well as the grace and beauty of running Icelandic horses.  Their photography shares their vision and experiences with the viewer.
We invite you to visit the Eccles Art Center and its galleries. Main galleries hours are Monday through Friday 9 a.m. to 5 p.m. Saturday 9 a.m. to 3 p.m. Carriage House Gift Gallery hours are weekdays 10 a.m. to 5 p.m. and Saturday 11 a.m. to 3 p.m. The art center will be closed on November 22 through 25, 2018.