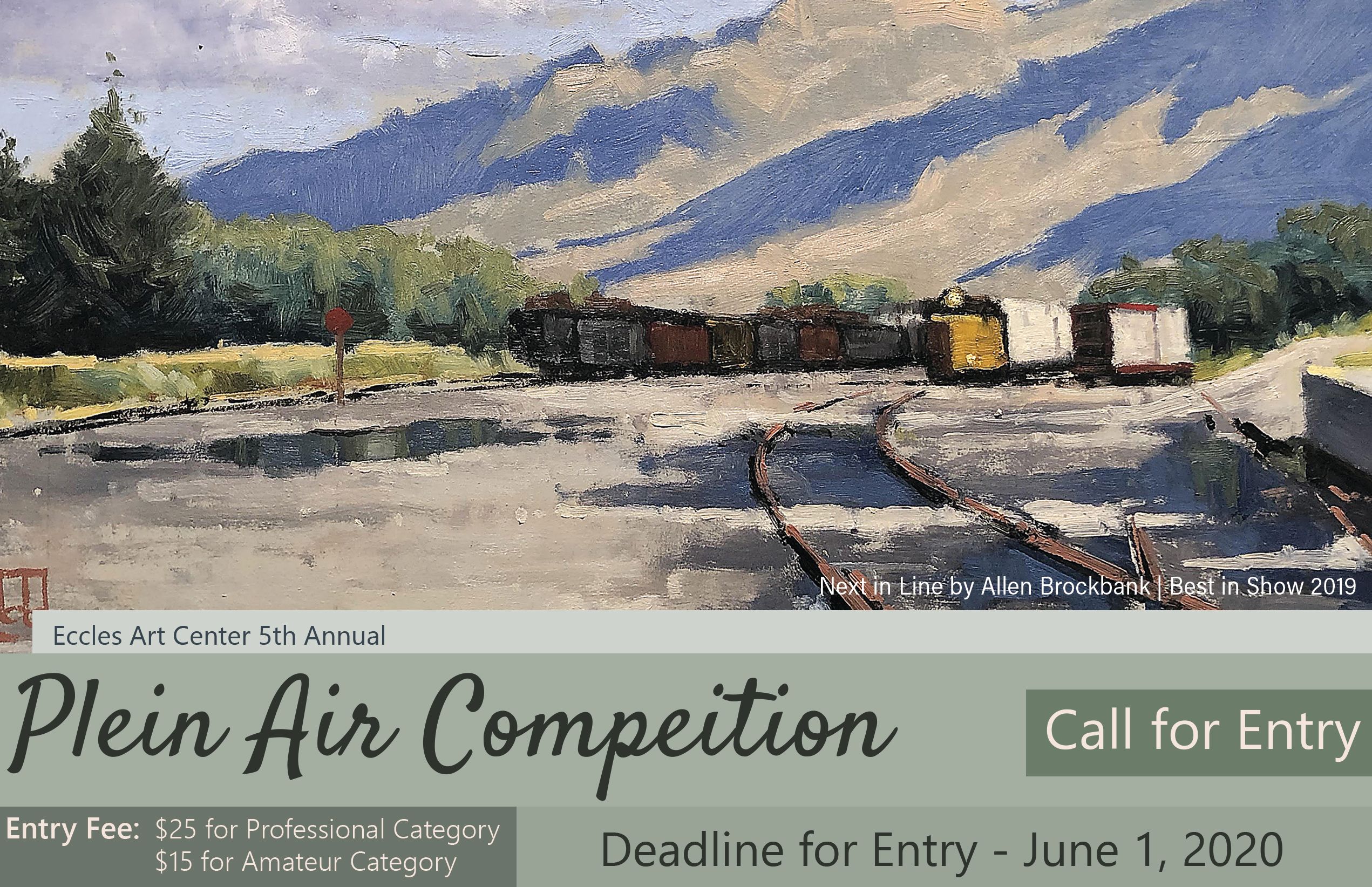 Eccles Art Center
PLEIN AIR COMPETITION
CALL FOR ENTRY
Deadline June 1, 2020
RECEIVING
Monday, June 1, 2020 9 a.m. to 5:00 p.m.
Eccles Art Center 2580 Jefferson Avenue Ogden, Utah 84401
Work will not be accepted after 5:00 p.m. on Monday, June 1, 2020
Entries must be clearly identified by the artist with title, medium, minimum and premium price. Identification tags will be provided upon receiving the finished surfaces. Only those works that are properly registered and stamped will be accepted for the competition/exhibit.
BOUNDARIES
The EAC's Plein Air Competition boundaries are set to capture the historic architecture of Ogden and the natural beauty of Weber County. Artists may paint anywhere within Weber County. Subject of works may be outside the boundaries of Weber County as long as the artist paint from within the County boundaries.
WORKING PERIOD
May 26, 2020 9:00 a.m. through June1, 2020 4:00 p.m.
REGISTRATION & STAMPING
We suggest that you register in person when you have your surfaces stamped. Registration and stamping may be accomplished May 26 through 29, 2020from 9 a.m. to 5:00 p.m.
FEES
$25.00 PROFESSIONAL/ ADDITIONAL ENTRIES: $10:00/entry
$15.00 AMATEUR/ADDITIONAL ENTRIES:$5.00/entry
When entering the professional or amateur division, you will pay for one surface entry when you have your surfaces stamped. You may have several surfaces stamped at this time for the fee of one entry. Additional fees will be charged if you decide to turn in more than one surface, up to three surfaces are acceptable. All fees are non-refundable, even if the original surface is unfinished. Entry fees are used for prize money and publicity.
To be come a member of the Eccles Art Center, click here.
ELIGIBILITY
The Eccles Art Center Plein Air Competition is open to all regional artists. Original works painted between May 26 through June 1, 2020 are eligible. PHOTOGRAPHS ARE NOT ELIGIBLE. Participating artists will provide their own surfaces which must be stamped before beginning the work. Stamping serves as a contest verification for when the surface is returned. Maximum surface size is 24" x 36". Artists are limited to a total of three surfaces/works. Entries must be ready to hang, mounted, matted and framed and otherwise ready in exhibition condition, ready to sell. TWO DIMENSIONAL WORK, LARGER THAN 21" x 21" WILL NOT BE ACCEPTED IN CLIP FRAMES. FRAMED WORK MUST INCLUDE WIRE OR SIMILAR HANGING SYSTEM. Works will not be accepted with only alligator hardware, D-ring, V-ring or keyhole hangers under any circumstance.
LIABILITY
Every reasonable precaution will be taken to protect work submitted. Work left at the Art Center after June 5th for works not accepted and after June 29th for accepted works are left at artist's own risk and storage charges may accrue. Works left at the Center for over 30 days will be deemed abandoned and disposed of at the Board's discretion. The Eccles Art Center does not accept responsibility for works damaged due to incorrect or poor framing.
SALES
Accepted works entered in the Plein Air Competition will be exhibited and offered for sale. A Plein Air Silent Auction will be established. Artists will indicate a minimum price for which they are willing to sell their work, an immediate sale/premium price (Buy It Now) will also be established. During the auction, art enthusiasts may bid on the freshly created plein air masterpieces beginning at the artist's minimum price. Sales will be encouraged and the Eccles Art Center will retain a 35% commission on sales.
PICK-UPS
Works accepted for exhibit and not sold must be picked up on June 29, 2020 between the hours of 9:00 a.m. & 5:00 p.m.

AWARDS
PROFESSIONAL:
First Place: $1000.00
Second Place: $ 500.00
Third Place: $ 250.00
AMATEUR:
First Place: $300.00
Second Place: $200.00
Third Place: $100.00
OPENING RECEPTION, EXHIBIT & AUCTION 
A reception for artists, friends and the community will be held on Friday, June 5, 2020 from 5:00 to 9:00 p.m. at the Art Center.
Awards will be posted at the reception. The exhibit and auction will continue through June 27, 2020
This project has received funding from Weber County RAMP, Ogden City, and is supported by the Utah Arts Council, with funding from the State of Utah and the National Endowment for the arts.
---
Sponsored by Heather A. Hess Lindquist
---