Paysage and Nature Morte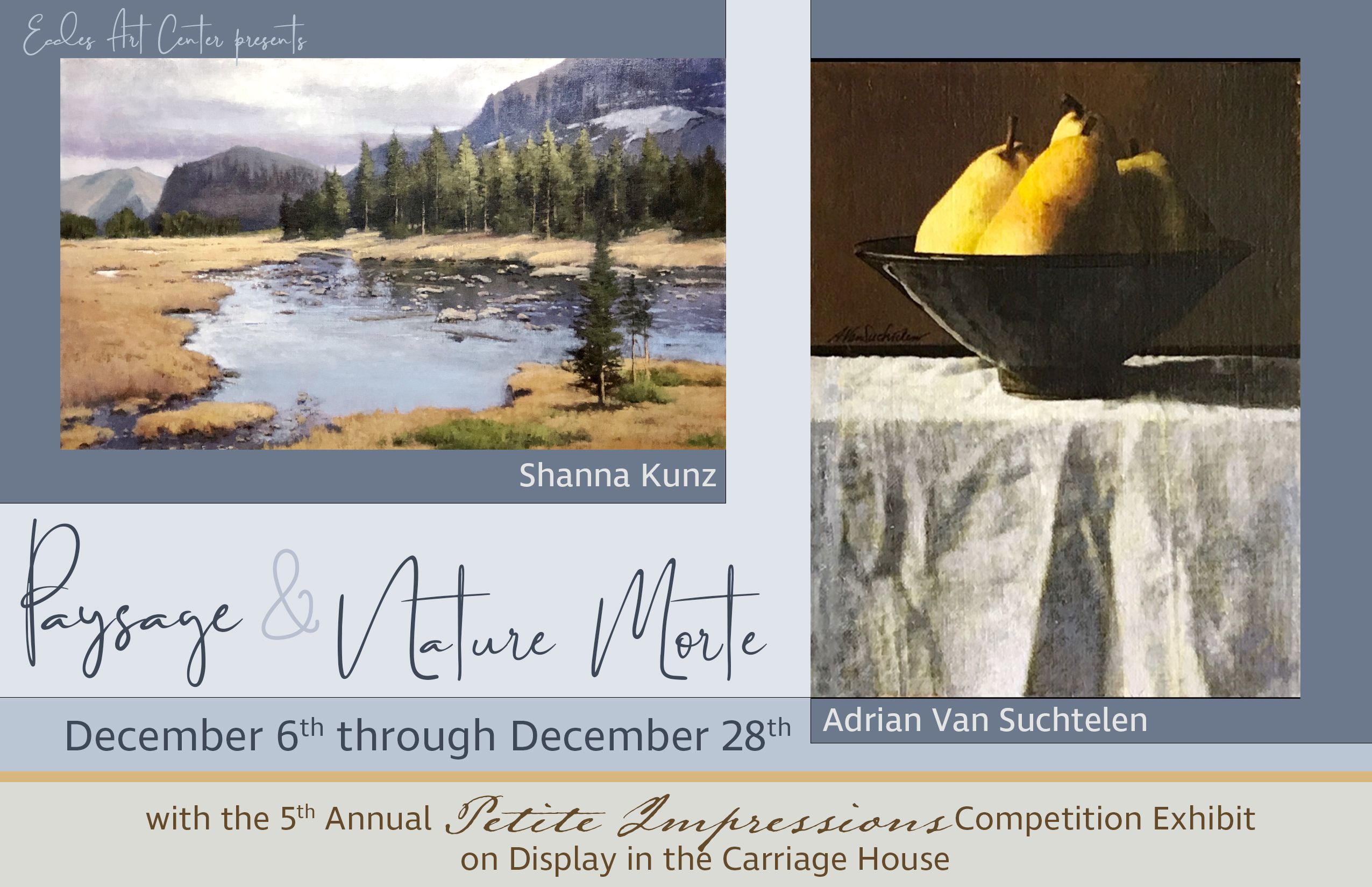 Each December the Eccles Art Center, 2580 Jefferson Avenue, Ogden gilded with holiday lights, adorned with Christmas trimmings and enhanced with lovely art.  The center's main gallery will feature an exhibit works by Adrian Van Suchtelen and Shanna Kunz entitled "Paysage & Nature Morte.  The Carriage House Gallery will display the accepted works from the Eccles Art Center's Petite Impressions Competition.  A reception for the artists is scheduled in association with Ogden's Art Stroll on Friday, December 7, 2019 from 5 to 8 p.m.  Exhibits continue through December 28, 2019.
Each of the Main Gallery featured artists will exhibit works in their specialties.  Shannna Kunz in Paysage, rural scenes and Adrian Van Suchtelen in Nature Morte, still life.
Kunz explain "As a contemporary painter, my work is a conscious play of mood, light and color, but as a naturalist raised in the diverse landscapes of the western United States, a painting means more to me.  Each location is an encounter with the land, the trees, and the waters that have always given me a sense of connection and order…. I push color and value into new compositions and continue a lifelong effort to communicate the emotional connection I feel with my environment."
Ms. Kunz studied with Adrian Van Suchtelen, artist, and Professor Emeritus at Utah State University.
Van Suchelen comments, "Perhaps the one aspect that distinguishes humans from other animal life is that humans have developed a consciousness.  We have a sense of place, an awareness of the decisions that we make and their resulting consequences. That's what we express and celebrate with the Fine Arts.  We express ideas about who we are, the world we live in and how we feel about our humanity." 
Mr. Van Suchtelen holds a BFA and MFA degrees.  He joined the faculty at USU in 1967 where he was the graduate director and was in charge of drawing courses.  He also taught courses in painting, printmaking, and sculpture. He has been a visiting professor conducting workshops at universities and art centers throughout the intermountain west. As a producing artist he has exhibited and won recognition in competitive shows, regionally and nationally.
The Carriage House Gallery will feature works accepted from Utah artists participating in the Eccles Art Center's Petite Impressions Competition.  Works from this annual competition have become a favorite for holiday shopping. The works are small under eight inches in any dimension and if framed the framing is under fifteen inches.  The competition is supported by new artists, those that are up and coming as well as professional artists in both two and three dimensional art. Always a fun variety of works to view.
The art center director Patrick Poce and his staff will decorate the center with holiday lights and décor, design art to view and enjoy.  Decorations will be at their peak for the art center's Family Traditions event on Saturday, December 14th from 3 to 6 p.m.  Funds from this event: $20/ family or $10/ individual are used for many of the art center's programs such as the center's educational outreach hands-on art classes that visit Elementary schools in Ogden City and Weber County.
The Eccles Art Center staff and directors have begun a fundraising event this holiday season to "Raise the Roof".  Our historic 126 – year- old home is in need of a new roof! Your donation may purchase one or many holiday tree lights to light the way to the much-needed replacement of the Art Center's historic Victorian home's roof.  A tree lighting event will be held on December 20th, after the "Raise the Roof" tree(s) will be on display in front of the mansion through the remainder of the holiday season.  Any donation is appreciated. For those wishing to learn more about this fundraising event and the tree lights your donation may purchase, please visit: www.ogden4arts.org.

The Eccles Art Center staff invites you to join us during December.  The Eccles Art Center's regular gallery hours are Weekday 9 a.m. to 5 p.m. Saturday 9 a.m. to 3 p.m.  The art center will be closed December 24th, 25th and 26th.