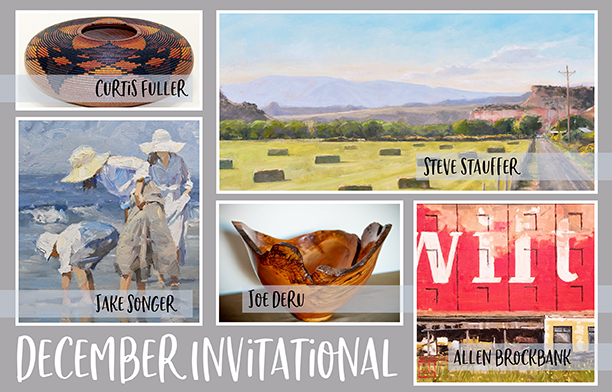 December, along with holiday lights brings an Artists' Invitational exhibit to the Eccles Art Center, 2580 Jefferson Avenue, Ogden Utah.  The center's main gallery will feature the paintings of Utah artists: Allen Brockbank, Jake Songer and Steve Stauffer along with three dimensional Utah wood artists: Joe Deru and Curtis Fuller.  The Carriage House Gallery will display the accepted works from the Eccles Art Center's Petite Impressions Competition.  A reception for the artists is scheduled in association with Ogden's Art Stroll on Friday, December 7, 2019 from 5 to 8 p.m.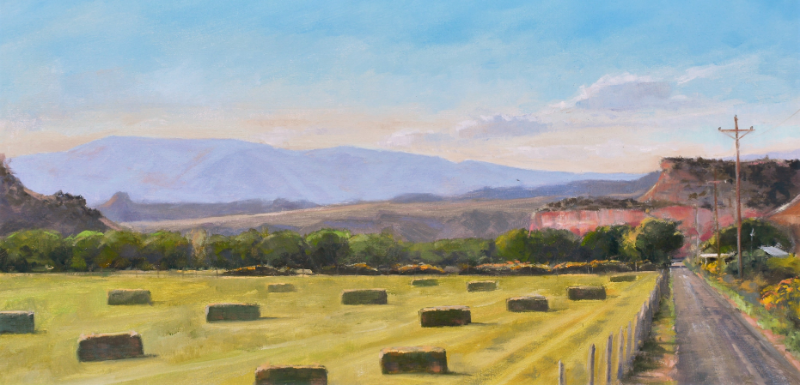 Allen Brocbank and Steve Stauffer are known plein air landscape artists.  "Imagine the most spectacular sunrise you have ever witnessed.  Or, the softest light that kisses the tops of the trees as a new day begins.  Remember how overwhelmed you felt and that feeling of ah as it overtakes you and leaves you speechless."  Steve Stauffer shares this, his artist statement with us and continues "This is the feeling I receive when I immerse myself into a landscape.  Attempting to find that special something of place that not only will I find, but might be allowed to capture on canvas and share with others as they walk along with me on my journey."
Jake Songer is known to paints landscapes many of them relating to his home in Ogden Valley.  In this exhibit, he also features an impressionist series of paintings of women and children in summer whites traversing along a shore line.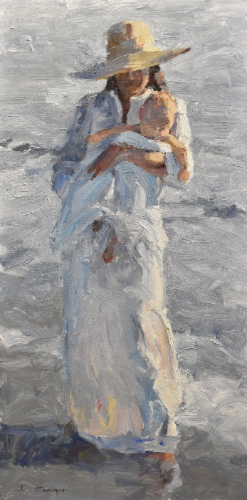 Joe Deru turns a variety of wooden vessel into three dimensional art forms.  His bowls and vases often incorporate the blemishes, cracks or holes of the wood along with its live edge to create unique works with a radiant beauty.
Curtis Fuller has been experimenting with his turned wood art.  Most recently he has taken inspiration from Native American baskets to create designed works of wood art, which are distinctive; lovely to see and own.
The Carriage House Gallery will feature works accepted from Utah artists participating in the Eccles Art Center's Petite Impressions Competition.  Works from this annual competition have become a favorite for holiday shopping.  The works are small under eight inches in any dimension and if framed the framing is under fifteen inches.  The competition is supported by new artists, those that are up and coming as well as professional artists in both two and three dimensional art.  Always a fun variety of works to view.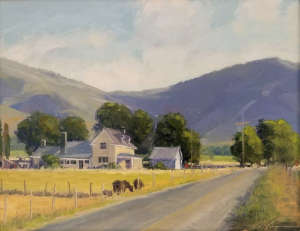 The art center director Patrick Poce and his staff will decorate the center with holiday lights and décor which is also a design art to view and enjoy.  Decorations will be at their peak for the art center's Family Traditions event on Saturday, December 15th from 4 to 6 p.m.  Funds from this event: $20/ family or $10/ individual as used for many of the art center's programs such as the center's educational outreach hands-on art classes that visit Elementary schools in Ogden City and Weber County.
The Eccles Art Center staff invites you to join us during December; either at the artists' reception on Friday, December 7 from 5 to 8 p.m., or at the Family Holiday Traditions event on Saturday, December 15th from 4 to 6 p.m.  or during regular gallery hours.  The Eccles Art Center's gallery hours are Weekday 9 a.m. to 5 p.m. Saturday 9 a.m. to 3 p.m.  The art center will be closed December 25thand 26th.  For more information about the center and its programs, please visit our website at www.ogden4arts.org.