Birds of Change and Lindey Carter Exhibit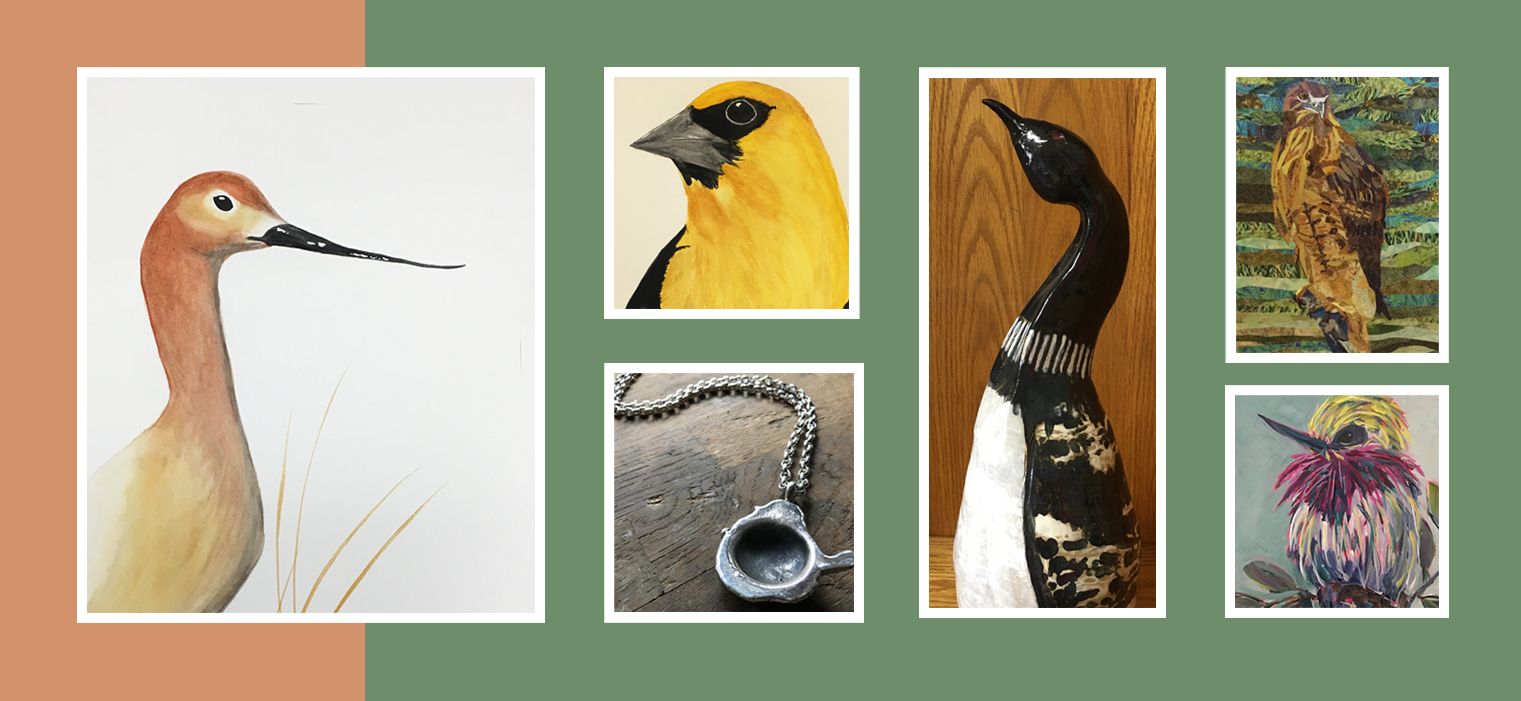 "Birds of Change" which opens October 4th at the Eccles Art Center, 2580 Jefferson Avenue, Ogden features five women artists and their interpretation of the 314 birds the National Audubon Society has listed as threatened or endangered due to climate change.  October 4th also brings the watercolor paintings of local North Ogden artist, Lindey Carter to the center's Carriage House Gallery.
A reception for the artists and public is scheduled on the First Friday October 4, 2019 from 5 to 8 p.m. during the Art Stroll.  Exhibits continue on display through Saturday, October 26, 2019.
The Audubon report, issued in 2015, defined threatened birds as those losing half or more of their traditional range by 2080, and endangered birds as those losing half or more of their traditional range by 2050.  National Audubon Society member, naturalist and watercolor artist, Susan Snyder began painting the listed in 2018. She approached for other local women artists to also interpret birds on the list in their respective media.  These artists include Kate Bruce ~ painting, Barb Crosbie ~ pottery, Amie Preston, silversmith ~ jewelry, and Karen Thurber ~ collage. Ms. Snyder shared her idea with the Eccles Art Center's staff and a show was scheduled for October 2019.
"In doing this show, I am hoping to help people visualize and connect with these creatures, which we could one day stop seeing in parts of North America." Snyder states.  "Each artist will be interpreting this list in her own way," she continues. "We are hoping that our show is full of images that will elicit joy, deep emotion, and connection.  It is my belief that you can't miss something that you never got to know. So we are hoping to help people stop, look, and notice the birds around them." Ms. Snyder finishes, "Doing this show has completely changed the way I paint, and I am ecstatic."
As a naturalist educator, Susan Snyder has scheduled three bird related workshops at the Eccles Art Center in October.  She will offer the "Art of the Feather" for students ages 14 through adult on Tuesday, October 15, 2019 from 4 to 6 p.m.  Students will learn about bird feathers while drawing and painting them with watercolor. Supplies provided. Tuition: $25.  Space is limited.
For students ages 8 through adult, Ms. Snyder will offer two workshops.  Bird Habitat: Tunnel Book on October 22, 2019 and Crazy, Curious Crows on October 29, 2019. Classes will be offered from 4:00 to 6:00 p.m. Supplies will be provided for both classes.  Tuition/person: $25/class. Space is limited. Registration for class may be accomplished on-line at www.ogden4arts.org or by calling a member of the art center staff at 801-392-6935.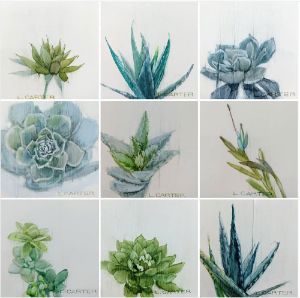 North Ogden watercolor artist, Lindey Carter will exhibit her paintings in the Carriage House Sales Gallery during October 2019.  Carter is most known for her small, square watercolor on gesso works. Using a subtractive method of rewetting her work, she creates surprisingly intriguing little works.
She says her paintings are really a "snapshot of a larger picture."  She continues "Studying the details of something larger and more complicated is her way of making sense of the chaos that surrounds her." 
We invite you to visit the Eccles Community Art Center and our galleries.  The art center is located at 2580 Jefferson Avenue, in Ogden. Regular gallery hours are weekdays 9 a.m. to 5 p.m.   Saturdays 9 a.m. to 3 p.m. Admission is complimentary. For information, please contact the center staff at 801-392-6935