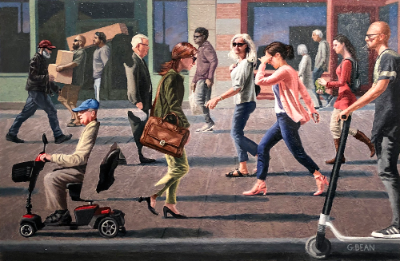 The Eccles Art Center, 2580 Jefferson Avenue, Ogden presents its 45th Annual Statewide Competition Exhibit. This statewide competition is open all artists who presently reside in the state of Utah.    Original work in a variety of media, including paintings, prints, monoprints, drawings, graphics, pottery, sculptures, and textiles are eligible.  Works must have been completed within the past two years and not have been previously exhibited in a juried exhibit sponsored by the Eccles Art Center. This year artist and professor emeritus, Utah State, Adrian Van Suchtelen will jury and judge the competition.  As this is a juried competition, only works accepted by the juror will be exhibited. This competition is always exciting due to the variety of work submitted.
The competition exhibit will be on display August 2 through 31, 2019.  Regular gallery hours are weekdays 9 a.m. to 5 p.m. and Saturday 9 a.m. to 3 p.m.   
The winners of the 45th Annual Statewide Competition are:
Best of Show | Unseen | by Greg Bean
First Place | Miss Jones | by Robin Farr
Second Place | Book Cliffs at Green River Utah | by Noel A, Carmack
Third Place | Carcasonne Carousel | by Joyce Rawson
Honorable Mentions
Entering Eden | by Robert Palmer
Hidden Home | by Cindy Roberts 
Year of the Pig | by Mary Wells
Juror's Recognition
Poland: 1939-1986 | by Edward Macner
Pay Quiet Time Tax | by Steve Stones
The Battle of Light over Dark | by Read Glockner
Covered Jar | by Pat Fife

The Eccles Art Center in celebration of the beauty of flowers, art and summer will exhibit competition works by resident Utah floral artists and interior designers.  Original floral designs will be created to accompany art works from the 45th Annual Statewide Competition.  Categories will include permanent botanicals and fresh floral material.  Awards will be presented in both categories. Designs completed for the Art in Bloom Competition will be on display August 23 from 9 to 5 and August 24, 2019 from 9 to 12 noon with complimentary admission.  A silent auction of floral artistry and reception for designers, friends, and the community will be held Thursday, August 22, 2019 from 5 to 7 p.m. A $10 donation is requested at the door for the auction and reception.  The food sponsors for this event are Olive and Dahlia, Deon Gooch, and Patrick Poce. 
This project has received funding from The Ned Favero Memorial Fund, Weber County RAMP, Ogden City Corp/Ogden City Arts and is supported by the state of Utah through the Utah Division of Arts and Museums and the National Endowment for the Arts.