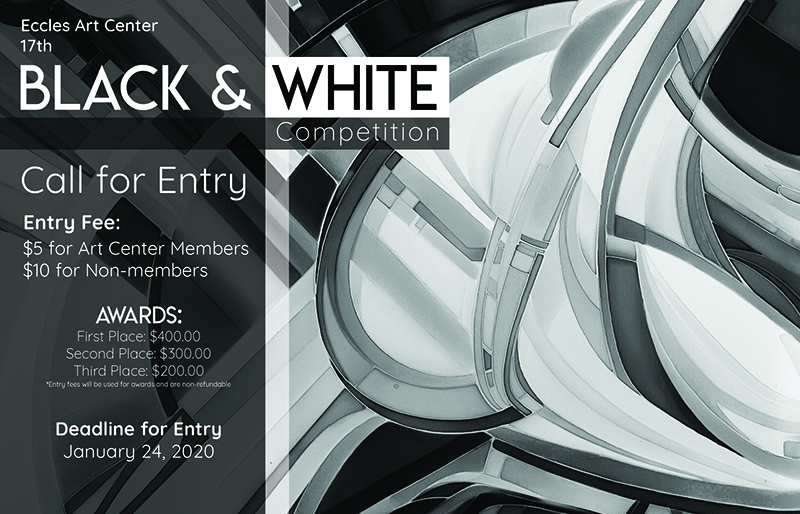 17th Biennial Black & White Competition
Eccles Art Center
Statewide Competition for Works in Black & White
Call for Entry
Deadline: January 24, 2020
ELIGIBILITY: The Eccles Art Center's Black & White Competition is open to all artists who live in the state of Utah. Original work in all media, including paintings, prints, monoprints, drawings, graphics, photographs, pottery, sculptures and textiles are eligible. ONLY WORK IN BLACK, WHITE AND/OR SHADES OF GRAY WILL BE ACCEPTED. Work must have been completed within the past two years and not have been previously exhibited in a juried exhibit sponsored by the Eccles Art Center.
Artists are limited to a total of two entries. Works consisting of multiple parts may be entered as a single work only if each of the parts cannot exist as a complete work by itself. Multiple parts of a work may not be priced separately.
Entries must be ready for exhibition display. TWO DIMENSIONAL WORK MUST BE FRAMED AND HAVE A WIRE OR OTHER ACCEPTABLE HANGING DEVICE ALREADY ATTACHED (works will not be accepted with only alligator hardware, D-ring, V-ring or keyhole hangers). CLIP FRAMES LARGER THAN 21" X 21" WILL NOT BE ACCEPTED.
The jurors or the Art Center may also refuse works which are not suitable for ex hibit in the Gallery because of size or liability. Works accepted for the exhibition may not be withdrawn.