16th Black and White Competition
The Eccles Community Art Center's Main Gallery will open a juried exhibition of artwork from our 16th Black & White Statewide Competition.  This exhibition will open Friday, February 2, 2018, and continue on display through Saturday, March 31, 2018. An opening reception at which awards will be posted will be held February 2nd, from 5 to 8 p.m. in association with Ogden's First Friday Art Stroll.  Awards presented will include monetary awards: First, Second, and Third. The public is invited to attend the reception and to view the exhibited works. Admission to the art center's galleries are complimentary.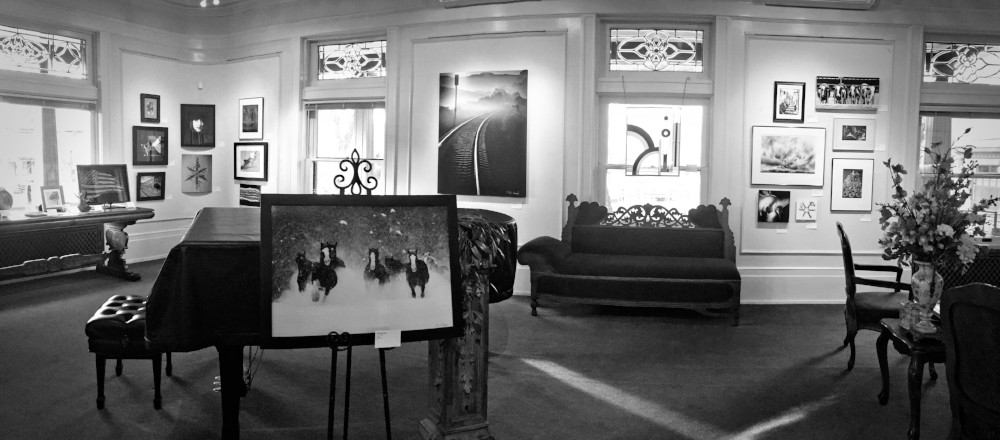 The 16th Black & White Statewide, a juried biennial competition open to recent works by Utah artists. Original work in all media, including paintings, prints, monoprints, drawings, graphics, photographs, pottery, sculptures and textiles are eligible.   Giclee and other reproduction prints are not accepted.  Works displayed will be in black, white and/or shades of gray.  The art center staff appreciates the assistance of the juror which reviews and curates works chosen for the exhibit as well as assisting in the judging of awards.  This competition is popular with Utah artists, photographers and art center patrons.
The public is invited to visit the Eccles Community Art Center and Carriage House Gallery during regular gallery hours.  Regular Gallery Hours are Monday through Friday 9:00 a.m. until 5:00 p.m. and Saturdays 9:00 a.m. until 3:00 p.m.  For information, please call us at 801-392-6935 or on-line at www.ogden4arts.org.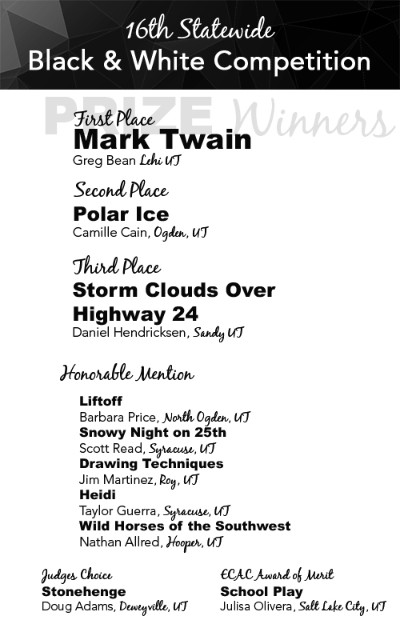 Artists with works on exhibit are:
Mariah A | Ogden | "Untitled"
Dianne Adams | Deweyville | "Cows"
Doug Adams | Deweyville | "Stonehenge"
Shauna Alcorn | Sandy | "Lucky Rabbit's Foot"
Nathan Allred | Hooper | "Wild Horses of the Southwest"
Eiko Anderson | Logan | "Ri River"
Eiko Anderson | Logan | "Waterfall"
Aaron Ashcroft | Salt Lake City | "In the Raven's Eye"
Aaron Ashcroft | Salt Lake City | "Raven's Wing"
Robert Bar | Magna | "Blue Collar Still Life"
Robert Barberio | Magna | "Outward Bound"
Paige Barth | Eden | "Stepping Stones fairy Gnome Land Series"
Gregg Batt | Taylor | "Squish"
Shelly Baty | Eden | "Twisted Trees"
Daniel Bauer | Ogden | "Not Too Sure"
Daniel Bauer | Ogden | "Platte Morning"
Greg Bean | Lehi | "Mark Twain"
Miss Jayne L Blair | Ogden | "Some Things Never Change from My Mother's Vintage Purse"
Shevyelle Blue Eyes | Ogden | "Untitled"
Danielle Van Suchtelen Bosco | North Logan | "Lamp"
Nick Bowsher | Ogden | "Wind Stone Arc"
Terry Brinkman | West Valley City | "Christmas Eve at Delicate Arch"
Itzel Brito | Salt Lake City | "Jacob"
Allen Brockbank | Centerville | "Winter Hues"
Sheryl J Brown | Liberty | "Flannery O'Connor"
Brenda Brunello | Providence | "Watching You"
Caryl Burton | West Haven | "Pieces"
Camille Cain | Ogden | "Polar Ice"
Steven Cain | Ogden | "Wolf's Gaze"
Steven Cain | Ogden | "Breaking Trail"
Marie Casas | Eden | "Imagine"
Laurel Casjens | Salt Lake City | "Clouds Rising Above The Forest, Colorado"
Laurel Casjens | Salt Lake City | "Windows, Alhambra, Granada, Spain"
Andrea Castaneda | Ogden | "Untitled"
Ann Charat | Murray | "The Soul of a Feather"
Aleta Cobabe | Eden | "Aspen Forest"
Matt Conlon | Ogden | "Large Black Vase with White pattern"
Barb Crosbie | South Weber | "Juan"
Anne Harmon Datko | Ogden | "From Dawn 'til Dusk"
Lara Deppe | Harrisville | "Unsung"
Lara Deppe | Harrisville | "Night Shift"
Francis Diaz | Ogden | "Untitled"
John Dodson | North Ogden | "Hand Cart"
Larry Douglass | Ogden | "Tree Conduit"
Ronald Driggs | Brigham City | "Mustangs of the Southwest"
Joan Escala | Clearfield | "Kiss Me With No Rush"
James Fain | Logan | "Nike Bull Fighter's Shoes"
KJ Fain | Logan | "Buckle- Up"
Gretchen Faulk | Salt Lake City | "Watching, Waiting"
Gretchen Faulk | Salt Lake City | "Your Radiant Face"
Stella Ferro | Ogden | "Pile of River Rocks"
Christie Fewkes | Roy | "Still Rollin'"
Melissa L Flattery | Pleasant View | "Dark Energy"
Carma Hart Fuller | Clinton | "Soft Spectrum Hollyhocks"
Doug Fullerton | Ogden | "Ice Water #1"
Kathleen Gardner | Salt Lake City | "I Wonder What's Out in the Yard"
Marj Graham | Ogden | "Citadel"
Taylor Guerra | Syracuse | "Heidi"
Taylor Guerra | Syracuse | "Feline Mystique"
Sydney Hairfield | Morgan | "Portrait"
Jerry Hancock | Ogden | "Lazy Day"
Darnel Haney | Ogden | "Bob Marley"
Keith Haney | Framington | "Penny Farthing Fury"
Alexa Harding | Cedar City | "Untitled"
Nathan Harrison | Salt Lake City | "Apron"
Cynthia Heath | Kaysville | "Boutique"
Cynthia Heath | Kaysville | "Bird Cake"
John Heath | Kaysville | "Left Behind"
John Heath | Kaysville | "Waiting"
Daniel Hendricksen | Holladay | "Fern Spring Detail, Yosemite Valley"
Daniel Hendricksen | Holladay | "Storm Clouds Over Highway 24"
Stephen Henry | Clinton | "Cold Shot !"
Stephen Henry | Clinton | "The Tree of Calvary"
Jay Hudson | Ogden | "Montreal Selfie"
Paige Iddings | Clinton | "Cat in a Bag"
Geri Jensen | West Haven | "Fun in Black & White"
Susan A Johnson | West Jordan | "Whispered Flight"
Paulette Johnson | Ogden | "Witches Night"
Melody Jean Johnson | Saratoga Springs | "A Murmuration of Starlings"
Kerry W Jones | Cottonwood Heights | "Springville Textures"
Susan Jordan | Syracuse | "Do You See Squares?"
Michael Keogh | Ogden | "The Wife"
Michael Keogh | Ogden | "Church and State"
Anna Keogh | Ogden | "Birds & Ben lomond"
Ron Kusina | North Ogden | "Top of the Wave"
Tiffany Lannefeld | Corrine | "Barn Owl"
Jessica Lewis | Ogden | "Critical Thinking"
Randy Lowder | Salt Lake City | "Daydreaming"
Shelby Lynam | Morgan | "Organic Pen and Ink"
Chalyce MacDonald | Logan | "Stroll Through Naples"
Edward Macner | Ogden | "Four in Motion"
Mike Manful | Bountiful | "Orchid Arch"
Zena E. Manley | Harrisville | "LD18"
Erick Marquez | Ogden | "Untitled"
Mark Martin | Ogden | "Untitled"
Jim Martinez | Roy | "Drawing Techniques"
Lori Metcalf | Pleasant View | "Angel Profile"
Chris Miller | Ogden | "Dissonance"
John Mootz | Murray | "The Veil"
Charles Neal | Centerville | "Gray Sustenance"
Charles Neal | Centerville | "Recycled Abstract"
Kenneth Neely | Salt Lake City | "Solfleet"
Julie Nelson | Ogden | "All Souls Lost"
Martin Neunzert | Ogden | "Celestial Mechanics"
Sean Newton | Clearfield | "Underwater Bliss"
Sean Newton | Clearfield | "Ocean Paradise"
Claude Nix | Ogden | "Metal Old Glory"
Suzanne Nopper | Ogden | "Winter Evening"
Emily Ohman | Salt Lake City | "Breaking the Chain"
Julisa Olivera | Salt Lake City | "Skates"
Julisa Olivera | Salt Lake City | "School Play"
Trish Painter | Liberty | "Weeds"
TH Pate | Ogden | "... and Your Little Dog Too!"
TH Pate | Ogden | "Castle Construction, Hamburg"
Bruce Perry | Roy | "Old Glass"
Bruce Perry | Roy | "Boardwalk"
Barbara Perry | Roy | "Scavenger"
Barbara Perry | Roy | "Long Bill"
Lynn F Peterson | Mountain Green | "Fire In The Hole"
Tim D Peterson | Ogden | "Is This the Way to Thompsonville"
Tim D Peterson | Ogden | "Carmel-by-the-Sea"
Reggie Peterson | Ogden | "Peace"
Roxanne Pfister | Logan | "Raven Colloquy"
Roxanne Pfister | Logan | "Raven Reverie"
Pilar Pobil | Salt Lake City | "Mujeres de Galicia I"
Pilar Pobil | Salt Lake City | "Mujeres de Galicia II"
Barbara Price | North Ogden | "Liftoff"
Barbara Price | North Ogden | "Here's Looking at You, Kid"
Josh Pugean | Farmington | "Rhino"
Josh Pugeau | Farmington | "Chimp"
Irene Rampton | Salt Lake City | "Free Fall"
Irene Rampton | Salt Lake City | "Whirlwind"
Scott Read | Syracuse | "Snowy Night on 25th"
Kent Rich | Salt Lake City | "Brock Takes a Nap"
Paul Rimmasch | Ogden | "Bliss"
Paul Rimmasch | Ogden | "The Teacher"
Darla Roberts | Salt Lake City | "Doesn't Scare Me"
Darla Roberts | Salt Lake City | "Connect"
Elicia Rodriguez | Ogden | "Untitled"
Sally Rydalch | Roy | "Maize"
Melissa Seamons | Harrisville | "Horizontal Hold"
Mark Seawell | Ogden | "View to Eternity"
Mark Seawell | Ogden | "Moonset over Snowbasin"
David S Sharp | Salt Lake City | "Dream of Flight - 2017"
David S Sharp | Salt Lake City | "Yuki-Onu-2017"
Jeanne Sheehan | Perry | "Lullaby"
Jennifer Davis Sorenson | Huntsville | "When a Tree Was Your Best Friend"
Taylor Spinuzza | Ogden | "Untitled"
Susan Cramer Stein | Layton | "Twists and Turns"
Susan Cramer Stein | Layton | "In the Darkness"
Joyce J Stillwell | Ogden | "Solitude"
Steve D Stones | Ogden | "Victory"
Steve D Stones | Ogden | "Extra Innings"
Gordon J Swenson | Salt Lake City | "Primrose Path"
Tom Szalay | Ogden | "Peek-a-boo"
Tom Szalay | Ogden | "Monument Valley"
Suzanne Tanner | Ogden | "Helianthus"
Karen Thurber | Ogden | "Towards Sausalito"
King Thurber | Ogden | "Snow 12C"
Dan Tree | Salt Lake City | "Stanza"
Adrian Van Suchtelen | North Logan | "Ram's Head"
Kassandra Vargis | Ogden | "Untitled"
Eileen Collins Vestal | Salt Lake City | "Guerniraq"
Bonnie Wahlen | Ogden | "Fern of the Future"
Mary Wells | Ogden | "Dragonology"
Mary Wells | Ogden | "Popping Alphabet"
Doug Wewer | Eden | "Snowflake #39"
Doug Wewer | Eden | "Snowflake #78"
Sariah Wight | Eden | "Boots"
Donna Wilde | Ogden | "Purina Chow Mills"
Donna Wilde | Ogden | "Ogden Bridge"
RL Wolverton | Salt Lake City | "Wicked Witch of Capitol Reef"
RL Wolverton | Salt Lake City | "Factory Butte Panorama"
Annalee Wood | Kaysville | "Mother & Child with Lilies"
Becky Wright | Layton | "Monochrome"