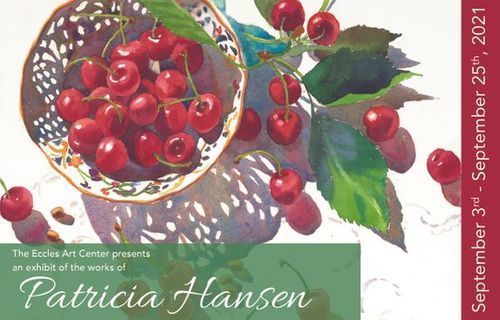 During September the Eccles Art Center's galleries will feature the work of two women artists.  The center's Main Gallery will exhibit watercolor and oil paintings by Sandy artist: Patricia Hansen.  While the pastel paintings and collages of Ogden artist, Karen Thurber will be on display in the art center's Carriage House Gallery.  A reception for the public and artists will be held in association with Ogden's First Friday Art Stroll, Friday September 3, 2021 from 5 to 8 p.m.  Works will remain on exhibit through September 25, 2021.
"Watercolorist Patricia Hansen currently maintains her studio in Sandy at the mouth of Little Cottonwood Canyon.  She received a bachelor of arts degree from Brigham Young University. After graduation, Hansen continued her studies in both drawing and watercolor with noted artists: Jade Fon, Millard Sheets, Robert E Wood, Tom Nichols, Jason Tao and Ethel Gruttman.  Hansen studied design and composition with Marie MacDonnall Roberts."
"Hansen works in transparent watercolor.  She is known for her layering and pushing color for full saturation.  She is able to create vivid watercolors which emphasize strength in design and composition. She as well creates visual texture – interiors rich with multiple patterns like those found in Persian rugs, chair cushions and wall paper.  The viewer is stimulated by figures of women among antique furnishings, bold colors and patterns of light."
Most recently, Hansen has decided to explore the medium of oils.  Her exhibit will feature both her watercolors and oils.
After arm surgery and recovery in 2018, Karen Thurber was inspired by a Santa Fe trip to take a new approach to her artwork.  "My work now reflects our travels and I am now working primarily in collage.  My collage works are composed of paper and fabric with an occasional enhancement by acrylic paint.  The collage medium has allowed me to escape my tendency to be too detailed as well as allowing me to explore emotional and tactile dimensions of my subjects.  The unlimited availability of fabric and paper is exciting and has enhanced my personal creativity as well as challenging the limits of my imagination."
Thurber studied at the Pennsylvania Academy of Fine Arts and the Samuel Fleisher school of Art, Philadelphia.  She has been exhibiting her work locally since 2012.
The Art Center's regular gallery hours are Monday through Friday 9:00 a.m. to 5:00 p.m. and Saturdays 9:00 a.m. to 3:00 p.m.  Admission to exhibits is complimentary.