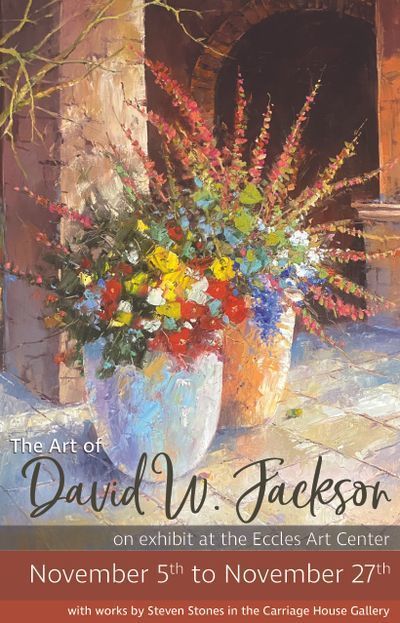 November exhibits at the Eccles Art Center, 2580 Jefferson Avenue, Ogden, will feature the paintings and bronze sculptures of David W. Jackson in the main gallery and the creative collages and paintings of Steve Stones in the Carriage House Gallery.  A reception for the artists and an evening of holiday shopping is planned for Friday Art Stroll, November 5, 2021 from 5 to 8 p.m.   The exhibits continue through November 29, 2021.
David W. Jackson is a multi-talented artist, who presently resides in Mountain Green, Utah.  Jackson's work is diverse with the inclusion of a wide variety of subjects in his paintings.  Throughout the Intermountain West, he is known for his landscapes and wildlife works.  His monumental bronze sculptures may be seen at Weber State University and Fremont High School.  He will have a few smaller bronze works on display with his paintings.
Jackson was an art teacher at Bonneville High School in Ogden.  Recently he started mentoring his grandson.  Jackson will be including a few of the clay sculptures his grandson has completed in the exhibit.
Steve Stones is an Ogden native and Adjunct Professor of Art at Weber State University.  He states "My interest in painting lie in the deconstructing, appropriating and dismantling pop-culture, mass media images and symbols.  My attempt is to present these images inn a new context in order to change how the viewer normally views these symbols.  My sources include food packaging, advertising, comic book imagery, carnival banners, animated characters and famous paintings.  I appropriate these images to communicate parody and humor in my work.  My process involves acrylic paint, collage, airbrush and mixed media techniques.
We invite you to visit the Eccles Art Center and its galleries. Regular galleries hours are Monday through Friday 9 a.m. to 5 p.m. Saturday 9 a.m. to 3 p.m. The art center will be closed for the Thanksgiving holiday, November 25 through 28, 2021.