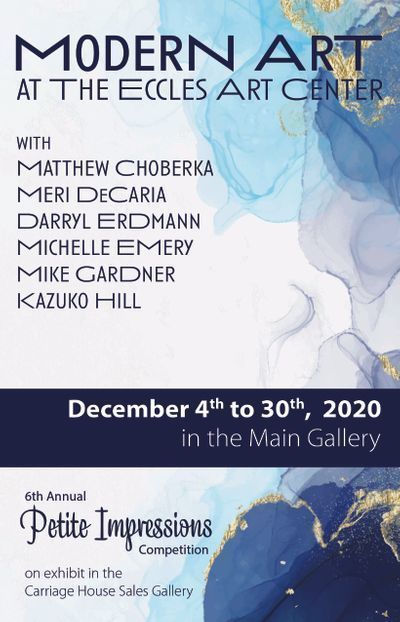 December is when the Eccles Art Center, 2580 Jefferson Avenue, Ogden sparkles with holiday lights, is adorned with Christmas trimmings and is enhanced with expressive art.  The center's main gallery will include Modern art works by invited painters: Matthew Choberka, Meri DeCaria, Michelle Emery, Darryl Erdmann, Kazuko S Hill and sculptor: Mike Gardner.  The Carriage House Gallery will display the accepted works from the Eccles Art Center's Petite Impressions Competition.  A reception for the artists is scheduled in association with Ogden's Art Stroll on Friday, December 4, 2020 from 5 to 8 p.m. (This may be cancelled if Covid numbers are high).  Artist, MandiAnne Orton will be demonstrating the creation of small polyform clay holiday sculptures during the stroll and on Facebook live.  A virtual exhibit of works  may be viewed online at www.ogden4arts.org.  Exhibits continue through December 30, 2020.  The Eccles Art Center will be closed December 25 through 27, 2020.
The artists of the Invitational Modern exhibit are all known for their abstract art. Choberka's paintings and mixed media works engage the complexity of the contemporary world.  DeCaria's work draws inspiration from the images and patterns of 60's modernism and the fluid forms of doodles which she assembles into abstract compositions.  Emery's and Hill's works express color and harmony, while Gardner's explores harmony through shape and form.
Erdmann suggests "Painting is a mental and physical statement about who you are and how you view the world.  I love the act of painting and have chosen it for what I do as well as who I am.  I hope my work engages you as a viewer and enhances your personal awareness and appreciation of the abstract thought."  The Eccles Art Center's staff and the artist of this invitational exhibit support this concept and invite you to view and appreciate the assembled abstract art.
The Carriage House Gallery will feature works accepted from Utah artists participating in the Eccles Art Center's Petite Impressions Competition.  Works from this annual competition have become a favorite for holiday shopping.  The works are small under eight inches in any dimension and if framed the framing is under fifteen inches.  The competition is supported by new artists, those that are up and coming as well as professional artists in both two and three dimensional art.  Always a fun variety of works to view.
Orton learned to sculpt as a young child watching her mother, artist, Pauline Muller-Orton create similar works. Orton has evolved to develop her own fun and whimsical style. 
The Eccles Art Center staff and directors are continuing the fundraising event "Raise the Roof" this holiday season with "Jingles for Shingles.  Our historic old home is in need of a new roof! Your donation may purchase one or many jingle bells to add to the "Raise the Roof" trees.  Funds raised will be used to assist in the much-needed replacement of the Art Center's historic Victorian home's roof.  The "Raise the Roof" trees will be on display on the mansion" grounds through the holiday season.  Any donation is appreciated.  For those wishing to learn more about "Jingles for Shingles," please visit: www.ogden4arts.org.
The Eccles Art Center staff invites you to join us during December.  The Eccles Art Center's regular gallery hours are Weekday 10 a.m. to 4 p.m. Saturday 9 a.m. to 3 p.m.  The art center will be closed December 25th through 27th.