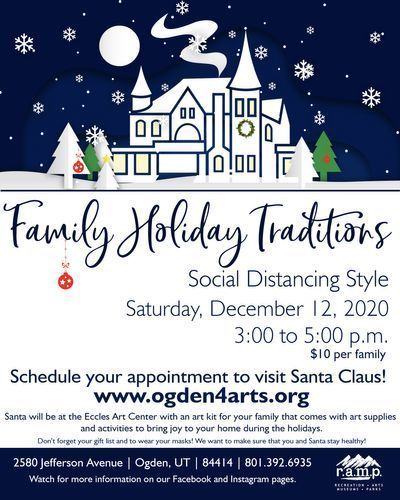 Join us! Family Holiday Traditions begin at the Eccles Art center, 2580 Jefferson Avenue, Ogden, Utah on Saturday, December 12, 2020 from 3 to 5 p.m. The Art Center's historic Victorian mansion will be decorated for the upcoming holiday. Due to pandemic restrictions, decorated trees will be displayed on the historic home's main floor. Remember to bring your camera to capture the beauty of the holiday lights. The Carriage House and main Gallery will be filled with art for viewing and purchasing. Local artists have provided a number of smaller items priced for gift giving. Social distancing will be observed in accordance with the Utah State COVID guidelines.
Holiday supplies for five projects will be assembled in a take home Art Kit. These kits are designed for you to enjoy sitting down together to create an artful, family holiday tradition. These projects may be used to decorate your home.
A mail box will be available for drawings and letters to Santa in the art center's main gallery beginning December 5, 2020. Santa will be at the Eccles Art Center from 3 to 5 p.m. on December 12, 2020. Santa will follow the state COVID 19 guidelines while listening to the children's wish lists. A ten-minute reservation with Santa may be scheduled when purchasing tickets.
A $10 Family Ticket may be purchased online at www.ogden4arts.org. Reservations are required. This year's EAC Family Holiday Traditions received funding from Weber County R.A.M.P.
The Eccles Art Center will be accepting donations during the Family Holiday Traditions for "Jingles for Shingles." "Jingles for Shingles" is a fundraising event that adds jingle bells to the holiday tree that was lighted in last year's "Raise the Roof" fundraising event. The lighted tree will be on display in the center's garden, with the jingle tree in the Art Center's reception area.
The public is invited to join us for the Social Distancing Family Holiday Traditions event on Saturday, December 12th from 3:00 to 5:00 p.m. or visit the Art Center during its regular hours. The holiday lights will remain on display through December 31st. Facemasks are required in the Art Center's galleries and on the grounds. Masks and hand sanitizer are available for visiting guests. The Art Center is open Monday through Friday from 10 a.m. to 4 p.m. and Saturday 9 a.m. to 3 p.m. Closed Holidays including December 24th through 27th, 2020. For more information, please call a member of the staff at 801-392-6935
---
Reserve your Family Ticket Here