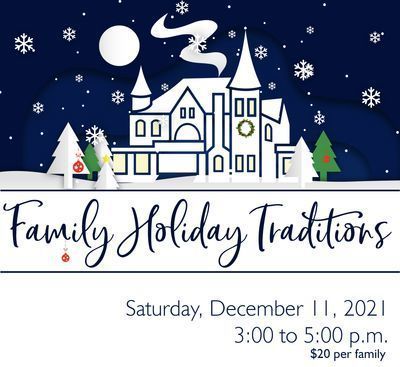 Holiday memories, EAC staff Debra Muller recalls her favorites:  Her mother decorating the tree with handmade ornaments - strings of popcorn and paper sack gingerbread men filled with candy, a jolly Santa Claus with real beard, Christmas carols sung with high school friends, visits to see the displays at Christmas Village, and the dark winter nights made bright with holiday lights.  As a family, the Mullers would drive through Ogden neighborhoods to view the lighted holiday displays while listening to Christmas music, and their photo album holds childhood pictures of Debra dressed in my warm winter coat sitting on Santa's lap.  Yes, she says I also wore white fur hand and ear muffs.  
The staff at the Eccles Art Center would like to assist you and your family in the sharing and creation of holiday memories with our "Family Holiday Traditions." It will be held on Saturday, December 11, 2021 from 3 to 5 p.m.  You and your family may stroll through the Eccles Art Center and the historic Jefferson District to view the holiday lights and see the fantastically decorated trees.  Yes, Pat has promised to decorate Picassa's tree this year. Stop in at the Carriage House Gallery especially if you need to pick up a fun and unique gift item.
Children may visit with Santa and receive a holiday "Art to Go" kit with holiday projects and treats.  Bring your camera or cell phone to capture your child's moment with Santa.  To insure, a kit for your child please fill out the request form on this page prior to Wednesday, December 8th. A family ticket for this event is $20.  The funds raised from this event aids the Eccles Art Center staff in providing art supplies and hands-on art lessons to Elementary students in the Ogden City and Weber County Schools.
---