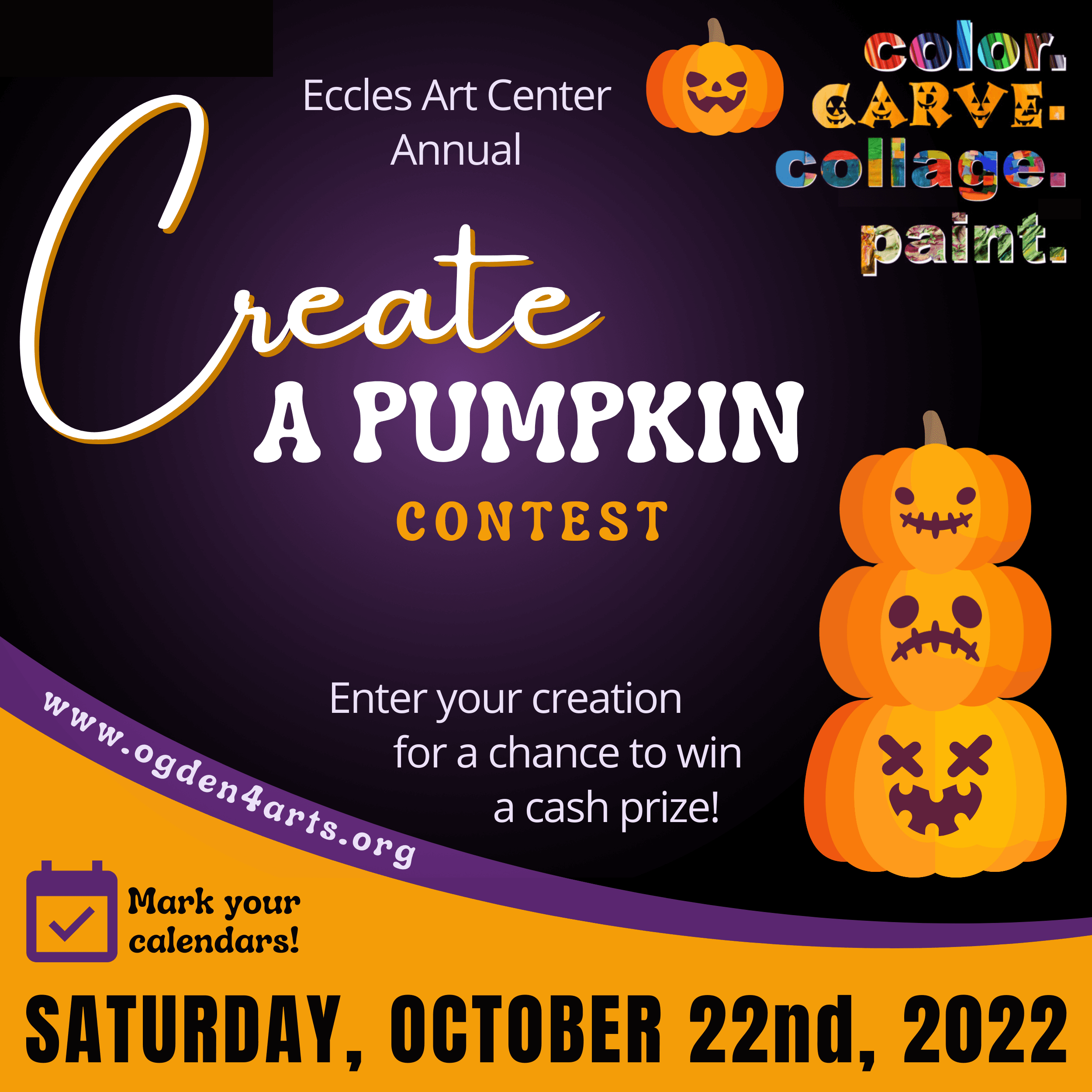 ---
The Eccles Art Center Create Art Contest: Adults or Children interested in carving or creating original art on a pumpkin. Provide your own pumpkin or reserve a pumpkin to be picked up at the Eccles Art Center October 19 through 21 from 1:30 to 4:30 p.m. Pumpkins are limited to one per person and are $5 each. Members with a Family Membership ($35 per year) may reserve up to 6 pumpkins at no cost. Your $35 family membership also includes entry to our "Family Holiday Traditions" event in December, along with other perks and discounts.
Your finished pumpkins should be brought to the Eccles Art Center, 2580 Jefferson, Ogden on October 22, 2022 between 3:00 and 6:00 p.m.  Judging will occur between 6:00 and 6:30 p.m.  with the public invited to view the pumpkin creations for a crawl between 6:30 and 7:30 p.m.  Awards will be posted during the crawl.  Awards will be presented in two categories: Youth ages 4 through 14; Adult ages 15 and above.  A grand prize: $50 will be awarded, and four honorable mentions of $25 will be awarded in each category. Pumpkins may be picked up after 7:30 p.m. on October 22, 2022.  Unclaimed pumpkins will be disposed of at the Eccles Art Center staff's discretion.
Family, friends and the public are invited to participate in a complimentary pumpkin crawl on Saturday, October 22, 2022 from 6:30 to 7:30 p.m.  Pumpkins will be lit and displayed around the grounds of the Eccles Art Center historic home.