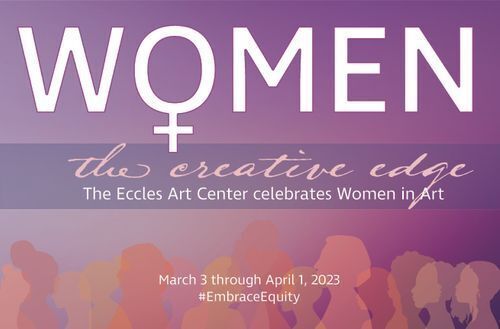 The Eccles Art Center will be holding the 4th Annual Women: The Creative Edge Competition exhibit this March! 
We would like to invite you to participate in this competition, which is open to female artists currently residing in Utah.
The theme for International Women's Day this year is #embraceequity. Entries may be based around this theme, or a theme that has meaning to you. Please note that this competition will be judged and juried if we receive an overwhelming number of submissions.
SUBMISSIONS:
Original works in visual art media including paintings, drawings, original prints (such as wood cuts, monoprints, etchings, digital paintings), pottery, sculpture and textiles are eligible.
REPRODUCTION PRINTS such as giclee and PHOTOGRAPHS ARE NOT ELIGIBLE.
A flat submission fee of $15 will be required. For members that have joined the Eccles Art Center at the artist level or above (see "Become a Member" on our website) the submission fee is complimentary.  
Artists may submit up to two works.
Submitted works should have been completed within the last two years.  
Artists will be responsible for delivery and retrieval, and any fees that may be incurred due to shipping.  
The Eccles Art Center will retain a commission of 35% on works sold during the exhibition.
Art work must be received at the Eccles Art Center during regular gallery hours February 22 through 24, 2023.
Works must be framed, or otherwise exhibit ready.
ALL ENTRIES MUST HAVE A WIRE FOR HANGING ON THE BACK. Works will not be accepted with only alligator hardware, D-ring, V-ring or keyhole hangers under any circumstance.
HOW TO APPLY:
Fill out an application form and return it to the Eccles Art Center by February 24, 2023.
Forms may be submitted online through our website by filling out the form below, or by printing and filling out the paper form by clicking the button below. Paper forms should be mailed to the Eccles Art Center:

Eccles Art Center
2580 Jefferson Avenue
Ogden, UT 84401
AWARDS:
First Place - $500
Second Place - $300
Third Place - $200
Honorable Mention (5) - $100
SCHEDULE:
February 22 – 24, 2023 - Art work received at the Eccles Art Center between 10:00 - 4:30 pm
                                        *The EAC is not liable for art work while in transit.
March 1 – 2, 2023 - Artists notified of work accepted for exhibit.        
March 3, 2023  - 5 to 8 p.m. Artist reception & open house, awards posted, meet and greet.
April 4 & 5, 2023 - Unsold art work should be picked up by artists