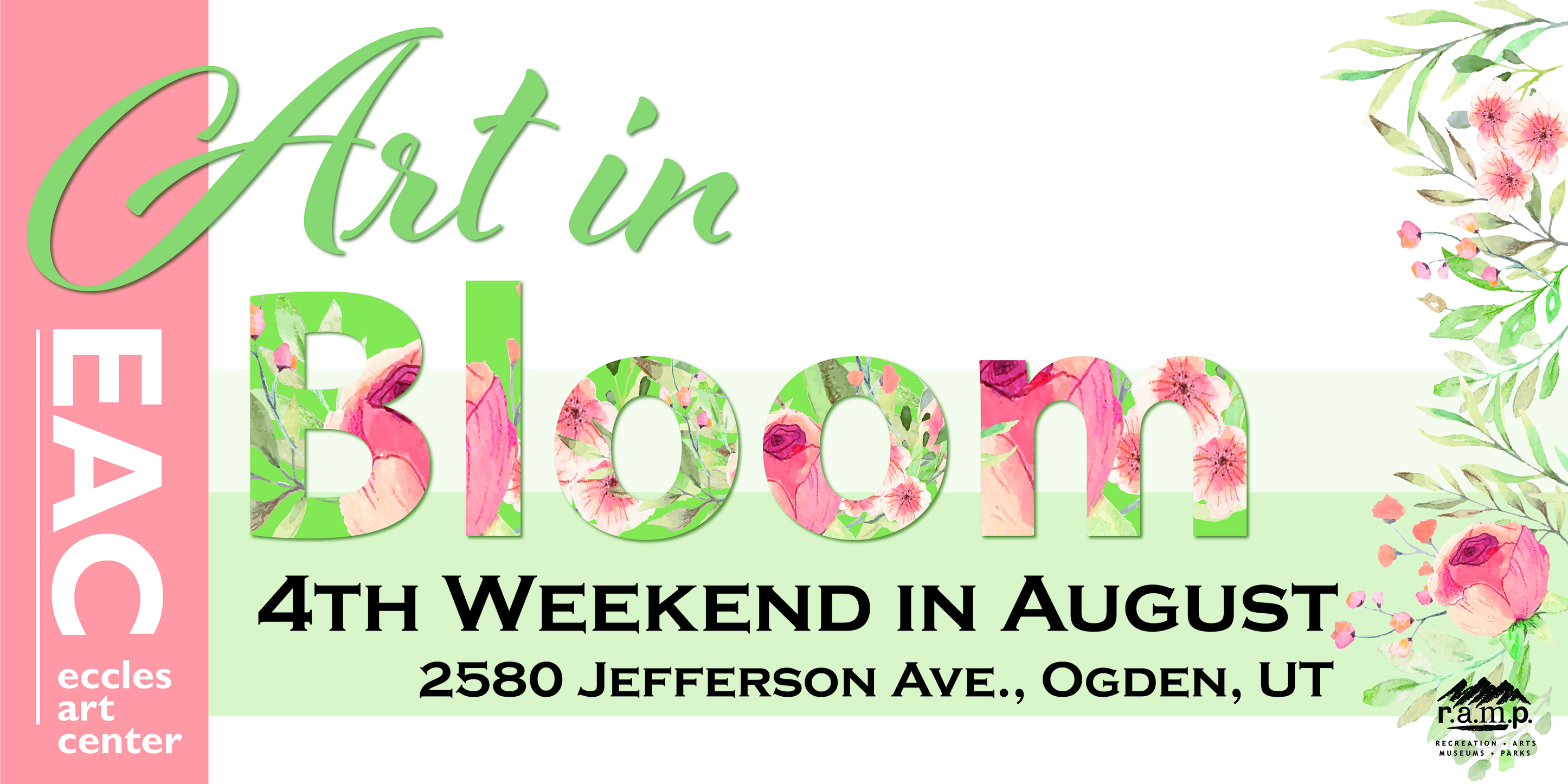 ELIGIBILITY
The Eccles Art Center (EAC) in celebration of the beauty of flowers, art and summer is opening a competition to all resident Utah floral artists and interior designers.  Original floral designs are to be created to accompany art works from the 44th Annual Statewide Competition.  Designs must be free standing, so that  damage is not  incurred by the historic home, its furnishings, or by the artwork on display.
Categories will include permanent botanicals and fresh floral materials.  Permanent botanical are defined as artificial floral designs including dried materials.  Fresh floral designs may include fresh floral materials including but not limited to mossed, lichens, branches, flowers, etc.  
Additionally, the EAC staff will provide each Art in Bloom registered participant with an artful  container in which they are to design a floral display to be auctioned at Friday evening 's Auction & Champagne Reception.
REGISTRATION
Designers may register to participate by completing the following form with the entry fee by August 19, 2019  Due to spatial limitations, applications will be processed on a first come basis.
Registration will not be accepted after August 19, 2019
LIABILITY
Every reasonable precaution will be taken to protect props (excluding flowers) used in the creation of the design submitted.  Props left at the Art Center after August 27, 2019 are at the designer's own risk and storage charges may accrue.  Props left at the Center for over 30 days will be deemed abandoned and disposed of at the Board's discretion.  The Eccles Art Center does not accept responsibility for works damaged due to incorrect or poor design.
ENTRY FEES & FORMS
$25.00,  which includes an annual membership for the designer to the Eccles Art Center, and each designer may participate in both categories..
Entry fees are used for prize money and publicity and are non-refundable.
SET-UP
Designers may review the assigned work of art any time during business hours after August 5, 2019 to begin working on their concepts.
Designers may work on their display August 22, 2019 from 9 a.m. to noon.  Art center pedestals are available for use in placing your floral design.  All other supplies, flowers and props must be provided by designers.
PICK-UPS
Props must be picked up on August 27, 2019 between the hours of  9:00 a.m. to  5:00 p.m.
See LIABILITY section for insurance restrictions and storage charge notice.
JURORS
Juror will review the designs on August 22, 2019 after 1:00 p.m.
AWARDS
First Place In Each Category: $400
Second Place In Each category: $300
Third Place In Each category: $200
Ned Favero Award of Excellence: $500
Eccles Community Art Center Award of Merit:  $200
Peoples' Choice Award:   $100
AUCTION & CHAMPAGNE  RECEPTION
A silent auction of floral artistry and reception for designers, friends and the community will be held on Thursday, August 22, 2019 5:00 to 7:00 p.m. at the Eccles Art Center.  Appetizers and canapés provided.  A $10 donation is requested at the door.  Designers will receive two complimentary tickets to the reception.  Food Sponsor: Olive & Dahlia, Deon Gooch & Pat Poce.
EXHIBIT
The exhibit will be open to the public with works on display August 23 from 9 a.m. to 5 p.m. and August 24, from 9 a.m. to noon.
This project has received funding from the Ned Favero Memorial Fund, Weber County RAMP, Ogden City, and is supported by the Utah Arts Council, with funding from the State of Utah and the National Endowment for the arts.

Art in Bloom 2019 Entry