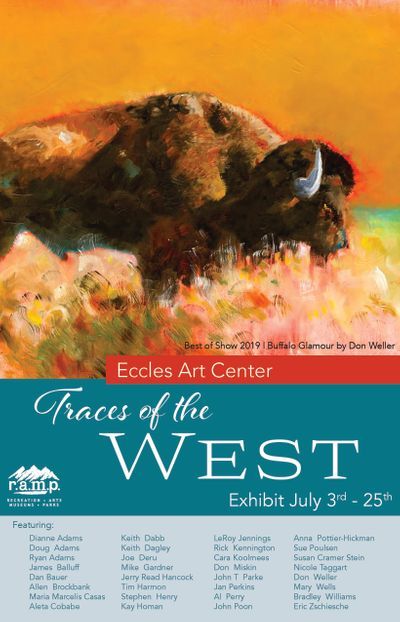 The Eccles Art Center's Galleries will exhibit works from Western themed artists during theTraces of the West. This invitational competition will open Friday, July 3rd and continue through July 27, 2020. A reception for artists, and the public will be held in association with Ogden's Art Stroll on Friday, July 3, from 5 to 8 p.m. Awards will be posted at this reception and on this website.
Traces of the West is comprised of recent works with a Western theme. This year categories arev two -dimension and three dimensional art. The two dimensional category will include: drawing, painting and photography with the three dimensional category includes sculpture. Local artists throughout Utah as well as those from Arizona, and Idaho are participating. Thirty-two artists have accepted an invitation to exhibit. They include: Doug, Dianne and Ryan Adams, James Balluff, Dan Bauer, Allen Brockbnak, Maria Marcelis Casas, Aleta Cobabe, Keith Dabb, Keith Dagley, Joe Deru, Mike Gardner, Jerry Read Hancock, Tim Harmon, LeRoy Jennings, Cara Koolmees, Don Miskin, John T Parke, Jan Perkins, Al Perry, John Poon, Anna, Pottier-Hickman, Sue Poulsen, Susan Cramer Stein, Nicole Taggart, Don Weller, Mary Wells, Bradley Williams, and Eric Zshiesche.
As an art patron if you are not able to attend the exhibit in person; watch for online virtual tours and artists' bios. These will be published on this website, 
Instagram and Facebook pages.
The Eccles Art Center's gallery hours are Monday through Friday 10 a.m. to 4 p.m. Saturday 10 a.m. to 2 p.m. The center is closed Sundays and major holidays including July 4th, Independence day, and July 24th, Statehood day.