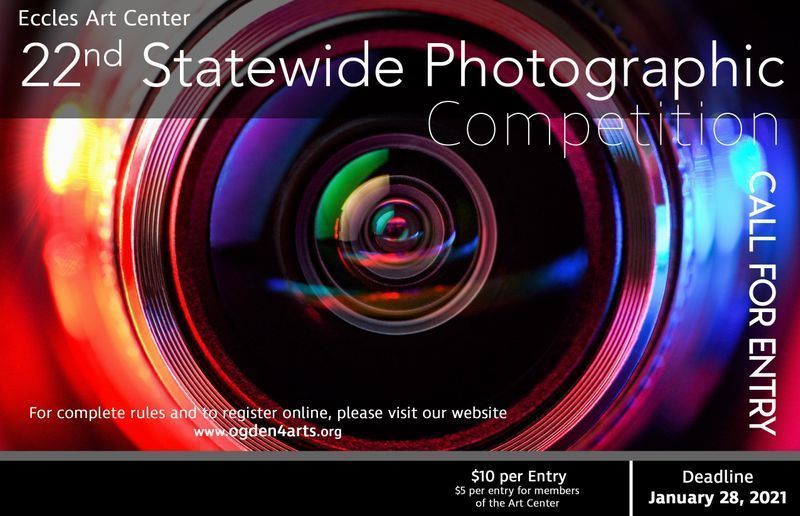 Eccles Art Center
Call for Entry 22nd Statewide Photography Competition Rules
ELIGIBILITY
Open to all photographic artists who presently reside in the state of Utah.
Participants are limited to a total of two entries. All prints must be original, completed within the last two years, and not have previously been exhibited in a juried exhibit sponsored by the Eccles Art Center.
All prints must be framed, fully assembled, including wire for hanging, and ready for exhibition display. PHOTOS WILL NOT BE ACCEPTED IN CLIP FRAMES. Works will not be accepted with only alligator hardware, D-ring, V-ring or keyhole hangers under any circumstance.
The jurors or the Art Center staff may refuse works which are not suitable for exhibition in the Gallery because of size or liability.
Work selected for the exhibition must remain for the duration of the show. No changes will be allowed.
The submission of entries gives the Eccles Art Center the right to reproduce work for publicity and educational purposes.
ENTRY FEE
The entry fee for Eccles Art Center members in good standing is $5.00 per entry. Non-members may enter at $10.00 per entry.   Entry fees are not refundable and are placed toward the presentation of   monetary awards.
PRE-REGISTRATION
For the fastest and most accurate registration, please pre-register online at www.ogden4arts.org
RECEIVING
Work will be received in the Main Gallery of the Eccles Art Center, 2580 Jefferson Avenue, Ogden, Utah on:
Wednesday, January 27, 2021 9 a.m. to 5 p.m.
Thursday, January 28, 2021  9 a.m. to 5 p.m.
Entries must be clearly identified with photographer's name, title of work, and either price or insurance value. Work not for sale must be marked "NFS" on entry forms with a value for insurance purposes given.
Tags will be provided for identification at time of entry. Entering artists will received notification of jury results via the email address they provided on the registration form.
PICK UP
Work not exhibited must be picked up by Friday, February 5, during the hours of 10:00 a.m. and 4:00 p.m.
Work included in the exhibit will be on display February 5, through February 27, 2021.  Work from the exhibit must be picked up by March 1st between the hours of  10:00 a.m. and 4:00 p.m.
LIABILITY
Every reasonable precaution will be taken to protect work submitted. The Eccles Art Center will not accept responsibility for damage due to poor or incorrect framing.
SALES
A price or insurance value must be indicated for all items entered. The Eccles Art Center will retain a 35% commission on sales. Sales will be   encouraged. Any item sold will remain on display until the end of the exhibit.
AWARDS
Four Honorable Mention awards of $100 each, and one Best of Show award of $300 will be chosen by the Juror. .
OPENING RECEPTION
Awards and cash recognition for the 22nd Statewide Photographic Competition will be posted  Friday, February 5, 2019, at 5:00 p.m., followed by  a reception for all the photographers, friends, EAC patrons and members of the community until  8 p.m. in association with Ogden's Art Stroll.

---
Eccles Art Center 22nd Photographic Competition Online Registration Form
---
LICENSE AND RELEASE
The Eccles Art Center hereby grants to the undersigned artist permission to display their photographic art in the Eccles Art Center, located at 2580 Jefferson Avenue, Ogden, Utah for the period of February 1 through February 27, 2021.  The Eccles Art Center cannot accept responsibility for works damaged due to incorrect or poor framing.  The Eccles Art Center will not be responsible for any loss or damage to the Artist's property after February 5, for work not accepted for exhibit or after March 1, for work accepted for exhibit.  The artist does hereby release the Eccles Art Center from any and all liability after March1, 2021 for any work submitted for the 2021 22nd STATEWIDE PHOTOGRAPHIC COMPETITION.