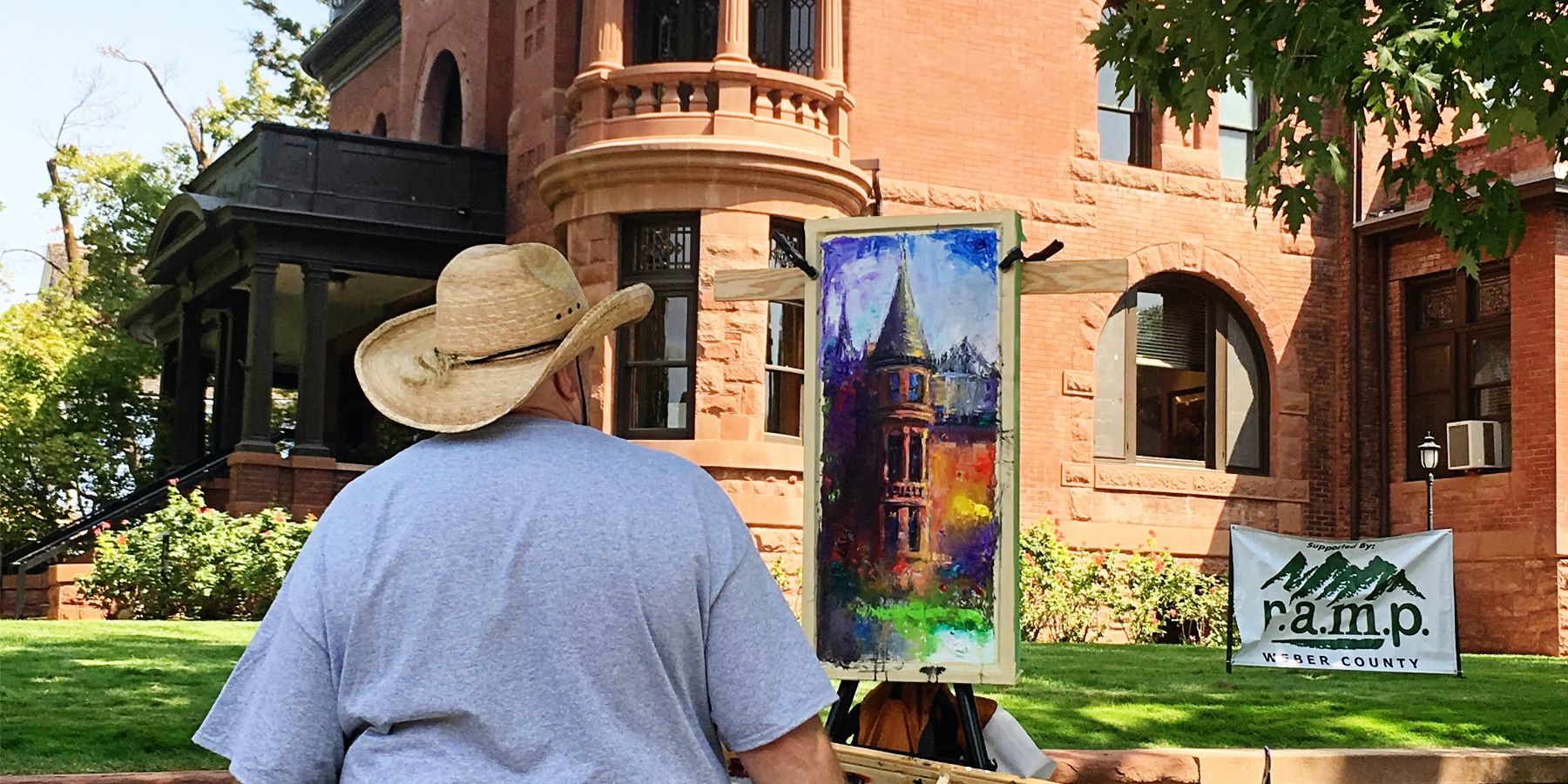 ELIGIBILITY
The Ogden's Arts Festival/ Eccles Art Center Plein Air Quick Draw Competition is open to all regional artists. The Quick Draw Competition will take place on Saturday, June 11, 2022 during the Ogden's Arts Festival. Original works painted on June 11, 2022 between 8:30 a.m. and 3:00 p.m. are eligible. Artists may enter more than one surface. Multiple surfaces may be stamped. Only surfaces registered are eligible for the competition and silent auction. Maximum surface size 36" x 36".
Entries must be ready to hang, mounted, or matted and framed and otherwise ready in exhibition condition, ready to sell. TWO DIMENSIONAL WORK, LARGER THAN 21" x 21" WILL NOT BE ACCEPTED IN CLIP FRAMES. FRAMED WORK MUST INCLUDE WIRE OR SIMILAR HANGING SYSTEM. Works will not be accepted with only alligator hard-ware, D-ring, V-ring or keyhole hangers under any circumstance.
BOUNDARIES
Artists will paint in the vicinity of the Ogden's Arts Festival (Wall Avenue to Jefferson Avenue between 24th and 26th Streets). Please no parking at Union Station as the festival is using the Union Station ground.
WORKING PERIOD
June 11, 2022 8:30 a.m. to 3:00 p.m.
REGISTRATION & STAMPING
Registration and Stamping will occur on the Eccles Art Center beginning at 8:30 a.m. Stamping will close at 11:00 a.m.
Participating artists will provide their own surfaces which must be stamped before beginning the work. Stamping serves as a contest verification for when the surface is returned. Works must be framed and wired for hanging in exhibit condition, ready to sell.
Participants will return works to Ogden's Art Festival at Union Station. The Eccles Art Center's Quick Draw booth will be inside the station near the gallery.
FEES
FEES: $25.00/ADDITIONAL ENTRIES: $10.00/ entry
Participants may have multiple surfaces stamped at the time of registration for the fee of one entry. Additional fees will be charges if you decide to turn in more than one surface. All fees are non-refundable, even if the original surface is unfinished. Entry fees are used for prize money and publicity.
PAINTING TURN IN
Return works to the Ogden's Arts Festival at Union Station Eccles Art Center's booth, by no later than 3:30 p.m. all submissions will be turned in for exhibit at the Ogden's Art Festival at Union Station, 2500 Wall Avenue, Ogden. Works must be framed and ready to hang with a wire in exhibition condition; ready to sell. Works will be judged. A silent auction will begin as works are placed on exhibit through June 12, 2022.
SALES
All work accepted for the Quick Draw Competition will be exhibited and offered for sale in a silent auction. Artists will establish a minimum price for which they are willing to sell their work, an immediate sale/premium price (Buy it now) will also be established. Art enthusiasts and collec-tors may bid on the freshly painted masterpieces beginning at the artist's minimum price. Sales will be encouraged and the Ogden's Arts Festival/ Eccles Art Center will retain a 35% commission on sales. Artist will be mailed checks for their work less the commission after payment is con-firmed on sold works.
AWARDS
First Place: $250
Second Place: $150
Third Place: $100
The silent auction closes at 4:30 p.m. June 12, 2022
Awards may be picked up Tuesday, June 14, 2022 at the Eccles Art Center.
PICK UP
Works accepted for exhibit and not sold must be picked up when the auction closes.
Those purchasing silent auction items may also pick up the pieces at this time.