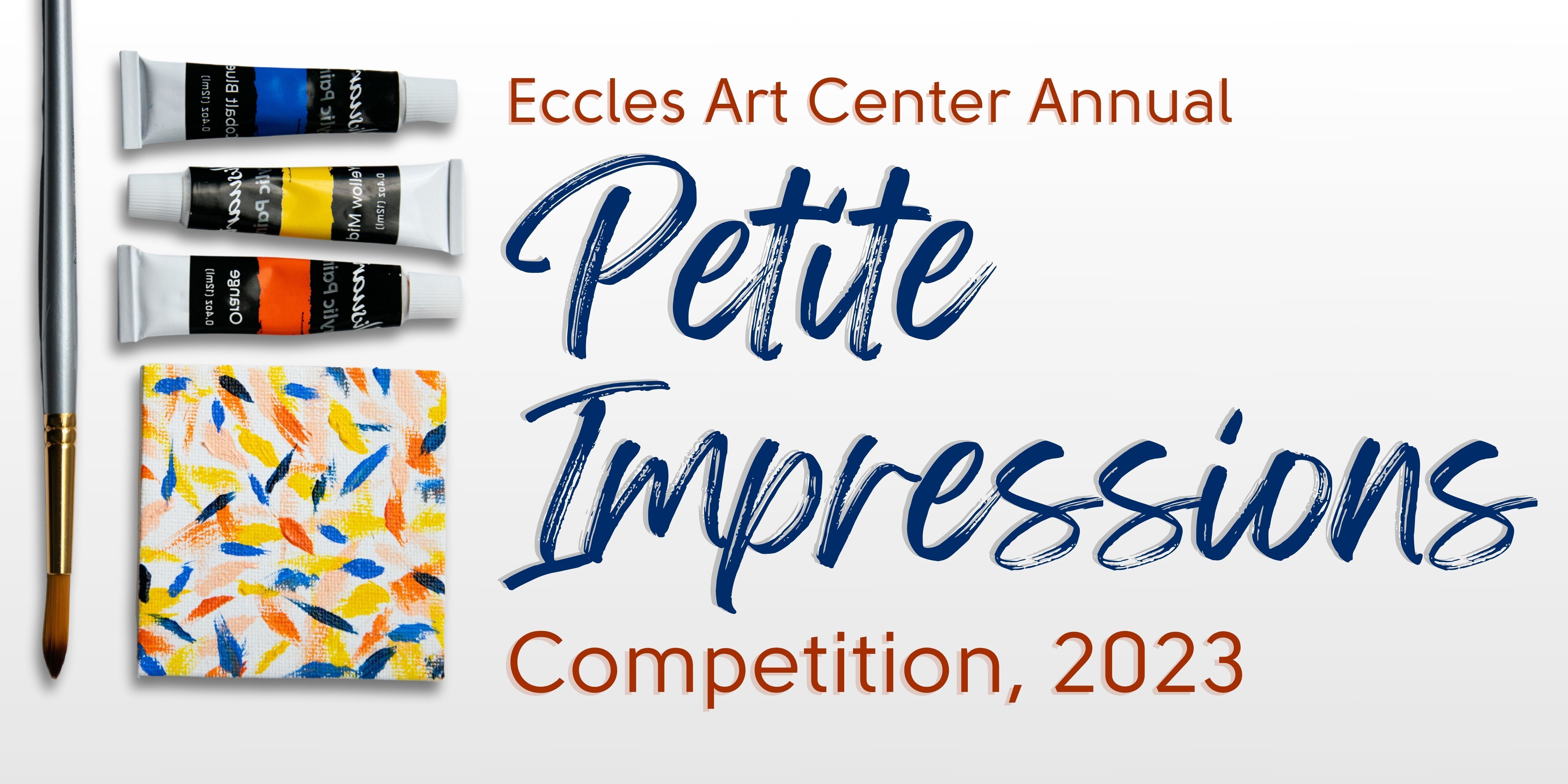 ENTRY INTO THIS COMPETITION HAS CLOSED
---
The EAC Petite Impressions Competition will be on exhibit in our Carriage House Gallery during the month of December, 2023. 
For this competition, artists will be asked to create miniature works of art of any subject matter, 2-Dimensional or 3-Dimensional, as long as they do not exceed 8" x 8" x 8" in size. Competition registration, as well as competition entry guidelines and rules are listed below.

ENTRY DEADLINE: TUESDAY, NOVEMBER 28, 2023

COMPETITION GUIDELINES:
Competition is open to all artists who presently reside in the state of Utah
Artists may enter up to two pieces. Works consisting of multiple parts (such as triptychs, etc.) will not be accepted
Original works in any medium including paintings, prints, monoprints, drawings, graphics, pottery, sculptures, and textiles are eligible. 
REPRODUCTION PRINTS such as gicleé and PHOTOGRAPHS ARE NOT ELIGIBLE FOR ENTRY
All entries must be under 8" x 8" x 8" in size. *Frames may be up to 15" in size
Entries must have been created within the last two years, and must not have been previously exhibited in a juried exhibit sponsored by the Eccles Art Center
Entries must be ready to hang, mounted, matted and framed, or otherwise ready for display. FRAMED WORK MUST INCLUDE WIRE OR SIMILAR HANGING SYSTEM. Works will not be accepted with only alligator hardware, D-ring, V- ring or keyhole hangers under any circumstance. Click here to review the EAC's framing guidelines.
ENTRY DROP OFF:
     Monday & Tuesday
     November 27 & 28, 2023
     9:30 a.m. to 4:30 p.m.
     Eccles Art Center
     2580 Jefferson Avenue
     Ogden, Utah 84401
     Work will not be accepted after 4:30 p.m. on Tuesday, November 28, 2023
LIABILITY:
Every reasonable precaution will be taken to protect work submitted. Work not accepted for exhibit left after December 2, 2023 and accepted work left at the Art Center after January 29, 2024 are left at artist's own risk and storage charges may accrue. Works left at the Center for over 90 days will be deemed abandoned and disposed of at the Board's discretion. The Eccles Art Center does not accept responsibility for works damaged due to incorrect or poor framing.
SALES:
As items will be on exhibit in the Carriage House Sales Gallery, a price must be indicated for all items entered. Sales will be encouraged, and the Eccles Art Center will retain a 25% commission on sales.
AWARDS:
First Place: $300.00
Second Place: $200.00
Third Place: $100.00
Honorable Mentions (5): $ 25.00
PICK-UPS:
Work not accepted must be picked up on or before December 2, 2023 between the hours of 9:30 a.m. & 2:30 p.m.
Works accepted for exhibit and not sold must be picked up January 29, 2024 between the hours of 9:30 a.m. & 4:30 p.m.
See LIABILITY section for insurance restrictions and storage charge notice.
OPENING RECEPTION & EXHIBIT
A reception for artists, friends and the community will be held on Friday, December 1, 2023 from 5:00 to 8:00 p.m. at the Art Center. Awards will be posted at the reception. 
The exhibit will be on display December 1, 2023 through January 27, 2024. 
This project has received funding from Weber County RAMP, Ogden City, and is supported by the Utah Arts Council, with funding from the State of Utah and the National Endowment for the arts.