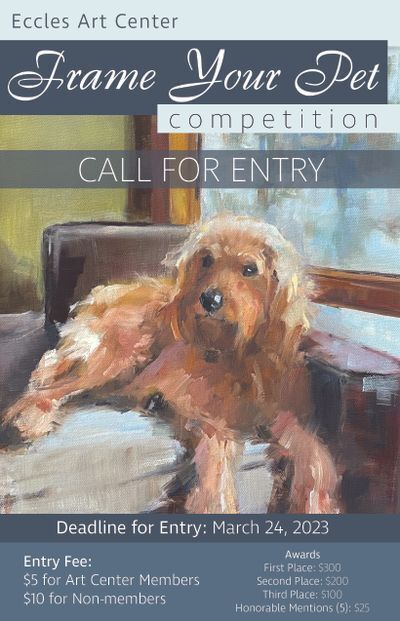 Eccles Art Center 
Frame Your Pet Competition 
CALL FOR ENTRY 
Deadline March 24, 2023 

The Eccles Art Center Carriage House Gallery announces, in association with National Pet Month, an avant-garde exhibit of your artisan skills in depicting a loved pet.
ELIGIBILITY 
The competition is open to all artists who presently reside in the state of Utah.
Original works not larger than 20" x 20" framed in any visual medium - including paintings, prints, monoprints, drawings, graphics, pottery, sculptures, and textiles - are eligible.
REPRODUCTION PRINTS such as giclée and PHOTOGRAPHS ARE NOT ELIGIBLE. *The EAC is also not equipped to display audio or video works at this time.
Work must have been completed within the past two years and not have been previously exhibited in a juried exhibit sponsored by the Eccles Art Center. 
ENTRIES
Artists are limited to a total of two entries. Works consisting of multiple parts will not be accepted. 
Entries must be ready to hang, mounted, matted and framed and otherwise ready for exhibition display.
2D WORK MUST INCLUDE A WIRE ON THE BACKOR SIMILAR HANGING SYSTEM. Works will not be accepted with only alligator hardware, D-ring, V-ring or keyhole hangers under any circumstance. 
RECEIVING 
All Entries should be dropped of at the Eccles Art Center during any of the following days/times:
Wednesday, March 22, 2023 10:00 a.m. to 4:30 p.m. 
Thursday, March 23, 2023 10:00 a.m. to 4:30 p.m. 
Friday, March 24, 2023 10:00 a.m. to 4:30 p.m. 
Drop off location:
Eccles Art Center 
2580 Jefferson Avenue 
Ogden, Utah 84401 
Work will not be accepted after 4:30 p.m. on Friday, March 24, 2023 
LIABILITY 
Every reasonable precaution will be taken to protect work submit-ted. Work not accepted for exhibit left after April 8, and accepted work left at the Art Center after May2, 2023 are left at artist's own risk and storage charges may accrue. Works left at the Center for over 60 days will be deemed abandoned and disposed of at the Board's discretion. The Eccles Art Center does not accept responsibility for works damaged due to incorrect or poor framing. 
SALES 
As items will be on exhibit in the Carriage House Sales Gallery, a price must be indicated for all items entered. Sales will be encouraged and the Eccles Art Center will retain a 25% commission on sales. 
** ALL ITEMS MUST BE PRICED TO SELL!** 
ENTRY FEES & FORMS 
$10.00 per entry for non-members
$5.00 per entry for members of the Art Center. *Members at the "Artist Membership" level are eligible for one free entry into this competition
Entry fees are used for prize money and publicity and are non-refundable. 
Entries must be clearly identified by the artist with title, medium and price/insurance value. Identification tags will be provided at the time of entry. 
Notification of jury results will be emailed to the address you provide. 
PICK-UPS 
Work not accepted must be picked up on or before April 28 2023 between the hours of 10:00 a.m. & 3:00 p.m. 
Works accepted for exhibit and not sold must be picked up May 2, 2023 between the hours of 10:00 a.m. & 3:00 p.m. 
See LIABILITY section for insurance restrictions and storage charge notice. 
AWARDS 
First Place: $300.00 
Second Place: $200.00 
Third Place: $100.00 
Honorable Mentions (5): $ 25.00 
OPENING RECEPTION & EXHIBIT 
A reception for artists, friends and the community will be held on Friday, April 7, 2023 from 5:00 to 8:00 p.m. at the Art Center. Awards will be posted at the reception. 
The exhibit will be on display April 7 through 29, 2023. 
This project has received funding from Weber County RAMP, Ogden City, and is supported by the Utah Arts Council, with funding from the State of Utah and the National Endowment for the arts.