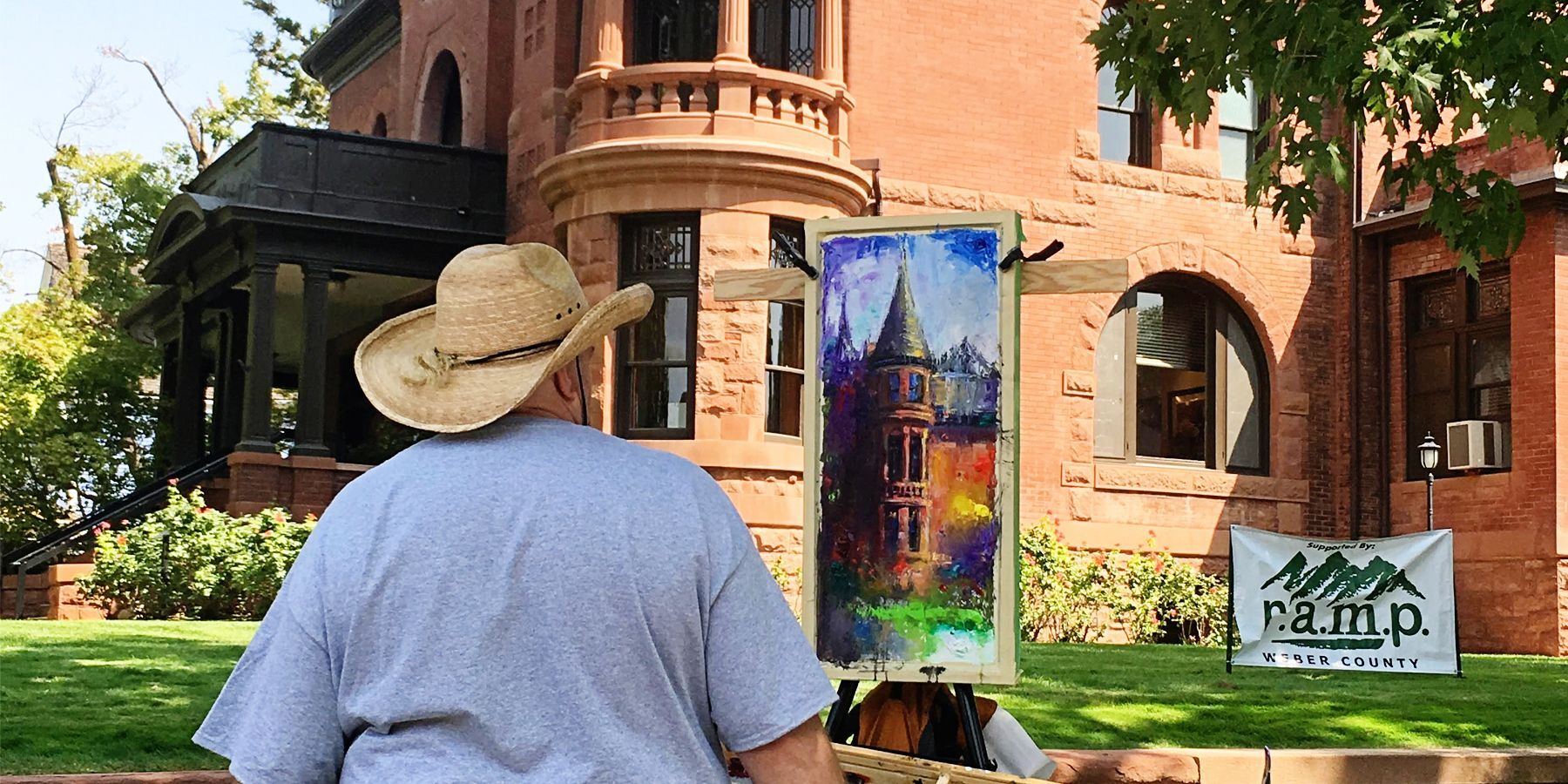 Fall Plein Air Quick Draw Competition, 2023
Join us for this new, one-day only competition! Paint, draw or create artwork on-site at the Eccles Art Center depicting anything you can see from EAC grounds (such as the historic Eccles home, neighboring buildings, landscapes, etc.) The hard part: complete your work in only 3 hours!
THIS EVENT WILL BE HELD FRIDAY, NOVEMBER 3, 2023 before and during the First Friday Art Stroll
HOW IT WORKS:
Register by filling out the form below
Bring in your blank canvases or work surfaces to be stamped at the Art Center. Stamping will be available from 2:00 - 4:00 pm on Friday, Nov. 3rd. (Stamping serves as a contest verification for when the surface is returned.)
Choose a spot on the Art Center grounds and set up your work station. Paint/draw/create on-site from 2:30 - 5:30pm.
Return your framed and completed works to the EAC Carriage House Gallery by 6:00 pm
REGISTRATION DEADLINE: FRIDAY, NOVEMBER 3RD BY 4:00 PM
ELIGIBILITY & ENTRY:
The Fall Plein Air Quick Draw Competition is open to all regional artists who currently reside in the state of Utah.
Entries must be original works painted on November 3rd between 2:30 and 5:30 p.m.
Multiple blank canvases/surfaces may be stamped, and artists may enter more than one piece.
Only works registered ahead of time are eligible for entry into the competition
Maximum surface size 36" x 36"
REGISTRATION & STAMPING:
Pre-registration is required. Artists may register up to and/or on Nov. 3rd before 4:00 pm.
Stamping will occur from 2:00 to 4:00 pm at the Eccles Art Center
Participating artists will provide their own surfaces, which must be stamped before beginning their work.
BOUNDARIES 
Participating artists must set up and work from the Eccles Art Center campus (between Jefferson Avenue to Orchard Avenue). However, artist's works may include anything that is visible from the Art Center campus, including (but not limited to) the Eccles Mansion, the Art Center's structures and buildings, mountains, neighboring buildings or houses, people, pets, and plants. Artist may set up on the Art Center's porch, or they may bring a pop-up canopy if inclement weather is expected. 
PAINTING TURN IN:
Completed works should be returned to the EAC's Carriage House Gallery, by no later than 6:00 p.m.
Works must be framed and ready to hang (with a wire on the back), ready to sell. TWO DIMENSIONAL WORK, LARGER THAN 21" x 21" WILL NOT BE ACCEPTED IN CLIP FRAMES. FRAMED WORK MUST INCLUDE WIRE OR SIMILAR HANGING SYSTEM. Works will not be accepted with only alligator hard-ware, D-ring, V-ring or keyhole hangers under any circumstance. 
All entries will be judged in a juried competition, and winners posted that evening.
All entries will then be placed on exhibit through the month of November.
ENTRY FEES:
$10.00 per initial entry
Additional works may be entered at $5.00 per entry 
*Participants may have multiple surfaces stamped at the time of registration for the fee of one entry. Additional fees will be charges if you decide to turn in more than one surface. All fees are non-refundable, even if the original surface is unfinished. Entry fees are used for prize money and publicity. 
SALES 
All work accepted for the Fall Quick Draw Competition will be exhibited and offered for sale.
Artists will provide a sale price - keep in mind the Art Center will retain a 35% commission of all sales.
AWARDS 
First Place: $500 
Second Place: $250 
Third Place: $100 
PICK UP 
Works accepted for exhibit and not sold must be picked up by 4:30 p.m. on November 27, 2023. 
---