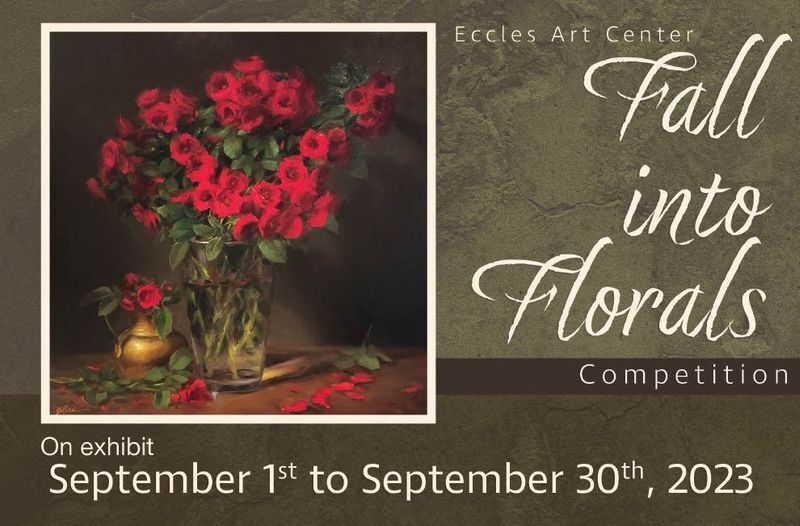 This September, "Fall into Florals" returns to the Eccles Art Center 2580 Jefferson Avenue, Ogden as a competitive exhibit open to resident Utah artists and photographers working with floral concepts. The Carriage House Gallery will feature the work of Orem, Utah artist Rick Shorten. A reception for the
artists and the public is scheduled in association with Ogden's Art Stroll on Friday, September 8, 2023 from 5 to 8 p.m.

The Main Gallery will be blooming with Fall into Floral concepts. The art center staff is always surprised with the variety and the scope of ideas our Utah artist have to share in a competitive exhibit. We anticipate we will be overflowing with blossoms of all colors. Awards will be posted at the Friday Art Stroll reception. A virtual tour will be upload to the center's website www.ogden4arts.org the following week for those unable to visit the center's galleries.

Using the "Fall into Floral" exhibit for inspiration, the art center's Seniors' Create workshop on September 22, 2023 at 11:00 a.m. will paint and frame 5 x 7 watercolor still life paintings. Pre-registration is requested and may be accomplished online at www.ogden4arts.org or by calling a member of the art center staff at 801-392-6935. The tuition of $10 includes the supplies. Class size is limited.

Rick Shorten has competed in a number of the Eccles Art Center's competitive exhibits. The EAC staff was pleased to invite him to exhibit his work in the Carriage House Gallery during September. Rick state "I like to explore symbolic representations of the relationships between people as couples or families or
friends, also the relationship between those in heaven and those here on earth." Shorten's work is represent in a number of galleries in Orem, Utah.

The Eccles Art Center regular gallery hours are Monday through Friday 9 a.m. to 5 p.m. and Saturday 9 a.m. to 3 p.m. The art center will be closed September 4 the for Labor Day. Admission to the galleries is complimentary.
---
Fall into Florals Award Winners
Fall into Florals Competition Winners
---
Click the link below for a virtual tour of
Fall into Florals 2023