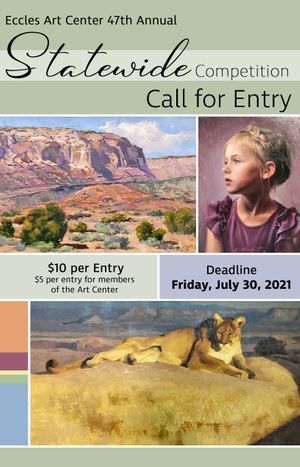 47th Annual Statewide Competition Call for Entry
Eccles Art Center
47th Annual Statewide Competition
The Eccles Art Center are pleased to issue this call for entries for the 47th Annual Statewide Competition.
ELIGIBILITY
The Eccles Art Center Statewide Competition is open to all artists who  presently reside in the state of Utah. Original works in any medium including paintings, prints, monoprints, drawings, graphics, pottery, sculptures, and textiles are eligible. REPRODUCTION PRINTS such as giclée  and PHOTOGRAPHS ARE NOT ELIGIBLE. Work must have been  completed within the past two years and not have been previously exhibited in a juried exhibit sponsored by the Eccles Art Center. 
Artists are limited to a total of two entries. Works consisting of multiple  parts may be entered as a single work only if each of the parts cannot exist  as a complete work by itself. Multiple parts of a work may not be priced  separately.  
Entries must be ready to hang, mounted, matted and framed and otherwise  ready for exhibition display. TWO DIMENSIONAL WORK, LARGER  THAN 21" x 21" WILL NOT BE ACCEPTED IN CLIP FRAMES.  FRAMED WORK MUST INCLUDE WIRE OR SIMILAR HANGING  SYSTEM. Works will not be accepted with only alligator hardware,  D-ring, V-ring or keyhole hangers under any circumstance. 
Work selected for the exhibition must remain for the duration of the show.  No changes will be allowed.
The submission of entries gives the Eccles Art Center the right to reproduce work for publicity and educational purposes.
RECEIVING
Please consider registering online for this competition. This helps us keep more accurate records and saves you time when you bring your work to the Art Center.

Thursday, & Friday, July 29 & 30, 2021 
9:00 a.m. to 5:00 p.m. 
Eccles Art Center 
2580 Jefferson Avenue 
Ogden, Utah 84401 
Work will not be accepted after 5:00 p.m.  
on Friday, July 30, 2021 
LIABILITY
Every reasonable precaution will be taken to protect work submitted.  Work left at the Art Center after September 1, 2021 is left at artist's own risk and storage charges may accrue. Works left at the Center for over 90  days will be deemed abandoned and disposed of at the Board's discretion.  The Eccles Art Center does not accept responsibility for works damaged  due to incorrect or poor framing.
SALES
A price or insurance value must be indicated for all items entered. Sales  will be encouraged and the Eccles Art Center will retain a 35% commission on sales. WORK NOT FOR SALE MUST BE MARKED 'NFS'  AND A VALUE FOR INSURANCE PURPOSES GIVEN. 
ENTRY FEES & FORMS
$10.00 per entry 
$5.00 per entry for members of the Art Center. 
Entry fees are used for prize money and publicity and are non refundable. 
Entries must be clearly identified by the artist with title, medium and price/insurance value. Identification tags will be provided at the time of entry. 
Please make sure to provide an accurate email address that you check often. We will be emailing the jury results. Make sure to check your spam folder if you haven't heard back from us within a week of entering the competition.
PICK-UPS
Work not accepted must be picked up on or before August 6,  2021 between the hours of 9:00 a.m. & 3:00 p.m. 
Works accepted for exhibit and not sold must be picked up  September 1, 2021 between the hours of 9:00 a.m. & 5:00 p.m. 
See LIABILITY section for storage charge notice. 
AWARDS
Best of Show: $750.00 
First Place: $500.00 
Second Place: $300.00 
Third Place: $200.00 
Honorable Mentions (3): $100.00 
OPENING RECEPTION & EXHIBIT
A reception for artists, friends and the community will be held  on Friday, August 6, 2021 from 5:00 to 8:00 p.m. at the Art  Center. Awards will be posted at the reception. 
The exhibit will be on display August 6 through 28, 2021 
Join us August 27, 2021 from 5 to 7 p.m. a silent auction of floral artistry at the ART IN BLOOM reception for floral designers, friends and the community. A $ 10 donation is requested.  Awards will be posted. 
Return Saturday, August 28, 2021 from 9 a.m. to 2 p.m. for the  SUMMER ART FAIR and the QUEEN OF ACES hybrid  fundraising event. Performing busker, and visual art booths  will be on the art center grounds. Live artists will be painting  and selling art on Jefferson Avenue, from 11 a.m. to 2 p.m.  Funds raised will assist the art center in covering its annual  operational costs. Watch the center's website:  www.ogden4arts.org for more information. 
This community event is sponsored by Eccles Art Center, Ogden City Arts and Weber County RAMP.
---

---
47th Annual Statewide Competition
LICENSE AND RELEASE
The Eccles Art Center hereby grants to the undersigned artist permission to display their artwork in the Eccles Art Center, located at 2580 Jefferson Avenue, Ogden, Utah for the period of August 6 through 28, 2021.  The Eccles Community Art Center cannot accept responsibility for works damaged due to incorrect or poor framing.  The Eccles Art Center will not be responsible for any loss or damage to the Artist's property after August 6, for work not accepted for exhibit or after September 1, for work accepted for exhibit.  The artist does hereby release the Eccles Art Center from any and all liability after August 31, 2021 for any work submitted for the 47th ANNUAL STATEWIDE COMPETITION.