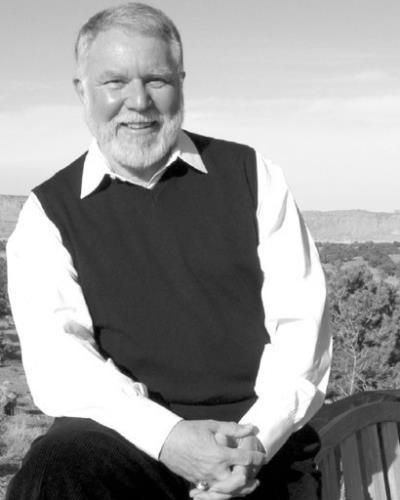 Arthur Roy Adelmann
1940 to 2019
The Eccles Art Center, 2580 Jefferson, Ogden along with its June Pride Competition June 4 through 26, 2021; will exhibit a memorial display of Arthur Adelmann's "Tree of Life Series" in the Carriage House Gallery.
Adelmann moved to Utah in 1966 to accept a teaching position in the Art Department at Weber State University.  His tenure lasted 35 years ending with his retirement in 2001.  After his retirement, he moved to Torrey, Utah, where he continued to paint.  His "Tree of Life Series" were painted in Torrey.
In his "Tree of Life" artist statement, Adelmann explains "Since childhood, I have felt a strong attraction to and a close kinship with trees, believing they have soul, wisdom and voice.  They have offered me solace, have inspired profound thoughts and feelings and have often been the subject of my paintings.  In my most lucid of dreams I was a tree, and can still feel the nourishing warmth of the sun on my evergreen boughs and the depth of my long, cool roots.  This dream once convinced me to remain in Utah, a decision I have never regretted.
My tree of life series is not intended as an illustrated compendium of global, social, scientific, mythological and religious concepts associated with it.  The motif is rich and varied, and is included in almost all major religions.  I prefer to slowly and modestly pursue my own visual and philosophical inclinations; my own subconscious promptings building a personal cosmology. 
The tree of life theme seems appropriate to my surroundings:  a vast and magnificent land, sky and great profusion of rather squat juniper and pinion pine sinking deep roots into rocky red soil, indeed often into the rock itself.  As I work, I bring my own meanings and symbols to the paintings.  I hope that some of them will find resonance in viewers."
The staff of the Eccles Art Center invites you to view the memorial exhibit of paintings which will remain on display through June 26, 2021.  Regular Gallery hours are weekdays 9 to 5 and Saturdays 9 to 3.  For information call us at 801-392-6935
Arthur Adelmann Tree of Life Images