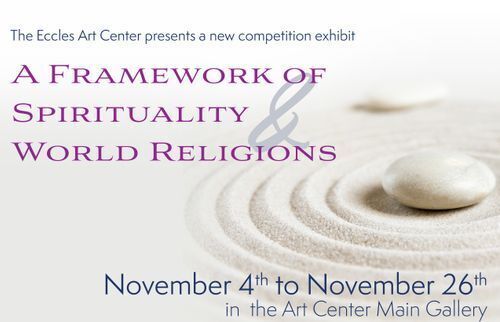 The Eccles Art Center, 2580 Jefferson Avenue, Ogden is announcing the exhibition of accepted works from "A Framework of Spirituality and World Religions Statewide Competition" during November 2022.  A reception for the community and artists will be held on Friday, November 4, 2022 from 5 to 9 p.m. in association with Ogden's First Friday Art Stroll. The exhibit continues through Monday November 28, 2022. A virtual tour may be reviewed on this website after November 4th.
This is a new additional competition for the art center.  The call for entry was mailed to Utah resident artists statewide.  The competitive exhibit is to celebrate the diversity of religious experiences and spirituality.  Through research, the Eccles Art Center's staff discovered that shamans, healers and wisdom keepers throughout the ages, world continents and peoples hold the belief that human spirituality is composed of three elements: spirt, mind and body which are influenced by: relationships, values and life purpose. The EAC staff are excited to view and share the original ideas and art works that explore these concepts.
This is a juried competition.  Artists were limited to two entries.  An artist/juror assisted the Eccles Art Center staff in choosing the works to exhibit and awards offered. Ten monetary awards will be presented including first, second, third, 5 honorable mentions, a juror's award and The Eccles Art Center award.
This project is sponsored by Stewart's Charitable Foundation, Nebeker Family Foundation, Myers Mortuary, and Javier's Inc.
The Eccles Art Center's regular hours are Monday through Saturday 9 a.m. to 5 p.m. Closed Sundays.   The Eccles Art Center will be closed November 24 through 27, 2022. Admission is complimentary.
"A Framework of Spirituality and World Religions"
Competition Winners
A Framework of Spirituality and World Religions
Click the button below to view a virtual tour of the exhibit of
"A Framework of Spirituality and World Religions"