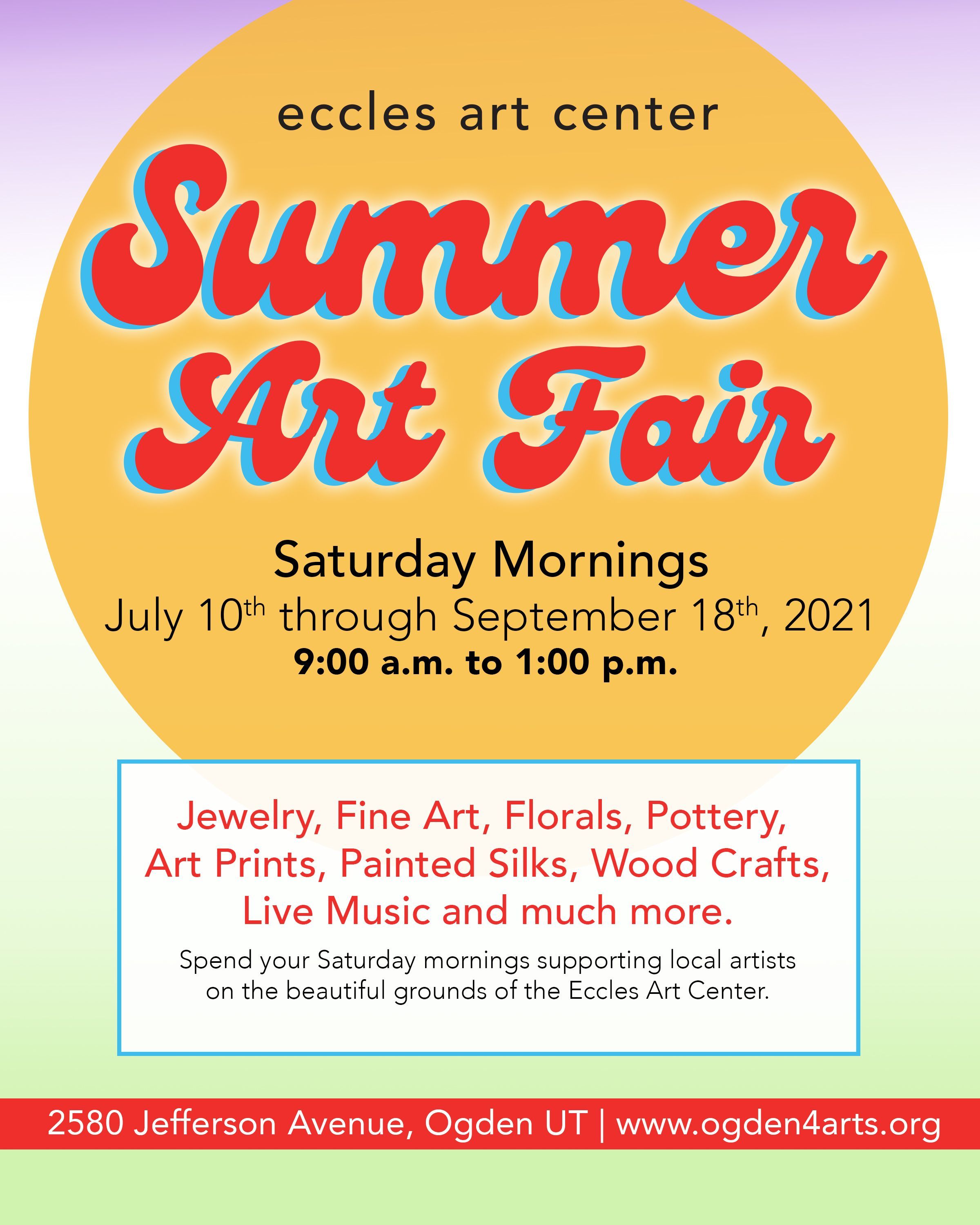 The Eccles Art Center, 2580 Jefferson Avenue, Ogden announces a Summer Art Fair in support of local artists and performers.  The Art Fair will be held Saturday mornings July 10th through September 18th from 9am to 1pm. Art booths and two performer stages will be placed throughout the Art Center's campus. Art from painting to pottery, jewelry to painted silk, wood to gourds, art prints to coloring books will be available to purchase.
Each week, booths will include the work of artists such as Pilar Pobil, Monica Pasqual Smith, Nancy Andruk Olson Art, Colunga Art, An Array of Artistry, Artsy Zeph, Chelbie Hunger Glassworks, MagicKing Illustrations, Shady Mays, Leslie Hanson, Elham Mirza, Amelia Morgan, Mutter Fine Art, Ellie Seamons, Indavady Sopraseuth, Raquel Juarez, Lunart by Chrystal Dawn, Levi Art Studios, Erica Lyon Art, Style Bookmaker, ASH Studio Art, McKenna Powell Art, Stephanie Saint-Thomas, Yoaneli Art, Black Forest Custom Carpentry, Stones Gallery, Brannarey, Wizards of the Wood, The Artist Palette, Author Chandler R. Williamson, The Prickly Potter, Color Me Cartoon, Laurie Harrower, DRAW Inc., and The Poeina Shop will  provide art on limited Saturdays.  Each Saturday will bring a new diversity of art.
A variety of musicians and performers will busker on the two Art Fair stages.  Bomba Marile, Brett Bishop, Lyrical Opera Theater, Nuevas Raices de Bolivia, Hit n' Miss, Katie Ainge, Ogden String Theory, Raven Spirit, Ryan Schneider, Sophya, Standards & Substandards, Wood Carver and Yudi will provide entertainment.  Again, each Saturday will be filled with a diversity of buskers.  Please remember to bring some cash to tip these performers.
Other booths are planned. Local non-profit groups including the Eccles Art Center, and Weber County Heritage Foundation will be staffing booths with information about their organizations and the projects they support. Artist Pamela Murphy along with Eccles Art Center staff and volunteers will be offering hands-on art projects for children.
The Eccles Art Center Main and Carriage House Galleries will be open to view exhibits. July exhibits: Traces of the West and Plein Air Competitions, August Exhibit: 47th Statewide Art Competition, September: Main Gallery: Paintings by SLC artist Patricia Hansen and Carriage House Gallery: Ogden artist, Karen Thurber's art.  Join us at the Eccles Art Center's Art Fair, Saturday morning 9 a.m. to 1 p.m., August 1st through September 12th. Spend your Saturday mornings supporting local artists and performers.
Author Chandler R. Williamson

Stephanie Saint-Thomas Fine Artist

Chelbie Hunger Glass Works